We're living in an age of information overload.  It is hard to sort through the latest news because countless media sources worldwide duplicate the exact same news report.  For investors, traders, and businessmen alike, getting relevant breaking news when it breaks and having them organized is essential for success.  The solution may be SkyGrid, a news and information terminal that simply shows one copy of each unique news story, brings it to you in real time, and organizes it by relevance.  What's most impressive may be SkyGrid's ability to mark any incoming news items as positive (green), negative (red), or neutral (gray).

The Skygrid Beta web service we're reviewing today is a browser-based real-time news updater and organizer.  Skygrid began offering it's free version in early 2009 on an invite basis.  For now, Skygrid Beta focuses on finance and business news, but their recent SkyGrid iPad application has all types of news from entertainment to sports.  Instead of going to several of your favorite news sources and sorting through the news to determine what's relevant, SkyGrid Beta brings the information to you all in one place.  You may have seen me tweet stock market news as fast as anyone, but many professionals get news fast because they have expensive subscription news services.  Others constantly scour various news sources for updates.  I've just been trying out SkyGrid.
Many of the features and usability can be seen on other news sources or platforms, but none of them are as well integrated as Skygrid Beta.  For instance, like Skygrid Beta, the personalized frontpage of Yahoo (My Yahoo) and Google (iGoogle) can show the latest news, and just one copy of each unique story.  However, iGoogle and My Yahoo doesn't automatically update when there is another news story just being released in real-time.  The closest free service that you can use for real-time updates is twitter and following certain news agencies like Reuters and Bloomberg, in conjunction with an application like Tweetdeck or Hootsuite.  Still, you may get duplicates of stories from the different sources you follow reporting the same story and you cannot organize the news in an user-friendly way.
The Interface
The layout of the SkyGrid Beta interface is very simple and intuitive.  At top and center is a rotating update of the market indices, just like you're used to on CNBC.  The market data is delayed by 15 minutes, and flips back and forth between stock market indices and bonds/interest rates:

Below the market indices is the main menu. With the exception of the "Home" tab, which features the members favorite topics, the menu is organized by sectors with sub-industries under each tab.  With the main menu, you can jump to any major sector or hone in by sub-industry and receive real-time streaming news headlines specific to that sector or industry.
The content area appears in three columns, as seen in the picture below.  The left column is a list of your own customizable filter of specific topics (i.e. companies or sectors) of news items you'd like to see that isn't in the main menu.  The center column is the heart of the SkyGrid Beta news platform, with streaming unique news headlines tagged by company name and color of whether the news is good, bad, or neutral.  The right column includes the account management tools, an ad box, and the news story display.  When you click on a headline in the center column, you can read the story directly in the right column in the news story display.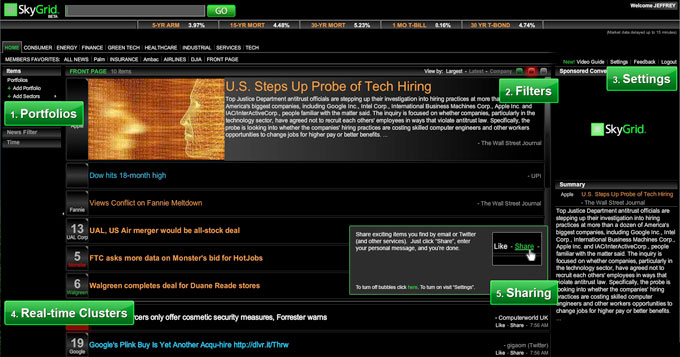 1.  Portfolios
The left column is a list of your own customizable filter of specific topics (i.e. companies or sectors) of news items you'd like to see that isn't in the main menu.  This makes it easy to manage and organize your own research, access them directly through the left column, then jump back to the major news via the main menu.  While you will see each unique news item come through when a news agency first publishes the headline, general sectors such as "Technology" have so many unique headlines streaming in that you may miss a specific news item you may be waiting for.  Therefore, the custom filters can be very useful.
2.  Filters
The filter tools for the center column allows you to sort through the barrage of news headlines that streams in.  Options include filtering by: largest, latest, or company.  Also, you can filter by good news (green), bad news (red), or neutral news (gray).  Depending on what kind of a news headline crosses, the green, red, or gray filter buttons will flash and the headline box of the news item will also flash that color.
3.  Account Settings
Manage your user name, password, email, and social network sharing options for services such as twitter.
4.  Real-time Clusters
In a compact box next to the headline, the cluster box shows the number of publishers (sources) with duplicates of this story, the company the headline is about, and color coded in green (positive news), red (negative news) or gray (neutral).  The cluster box flashes 3 times in green, red, or gray when the headline first appears, alerting you to the new headline.
5.  Sharing
Sharing options are located below the publisher name, allowing you to send to others via email, add a comment, or share via social networks.
Headlines and Clusters in the center column

Using SkyGrid Beta
Using Skygrid Beta is simple.
1. Login!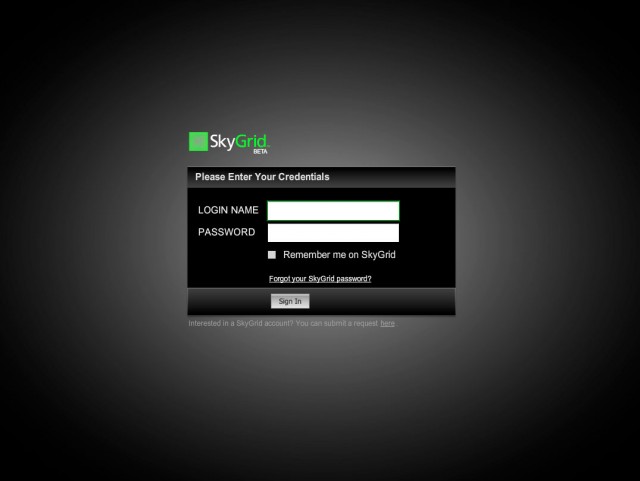 2. Find headline
click it, and the story appears in the right column "Summary" box.  Currenlty, the "Summary" box only shows a paragraph or two from the news story you select.   For stories that are much longer, click the title in the "Summary" box and the original story website will appear in another window.
In the example below, the headline we are reading is "Oil Spill Trims U.S. offshore natural gas supply," the company that this story is relevant to is Apache Corporation (NYSE: APA), a natural gas and oil exploration company.  We click the title in the summary box to read the full story on Reuters, the source of this particular version of this story headline.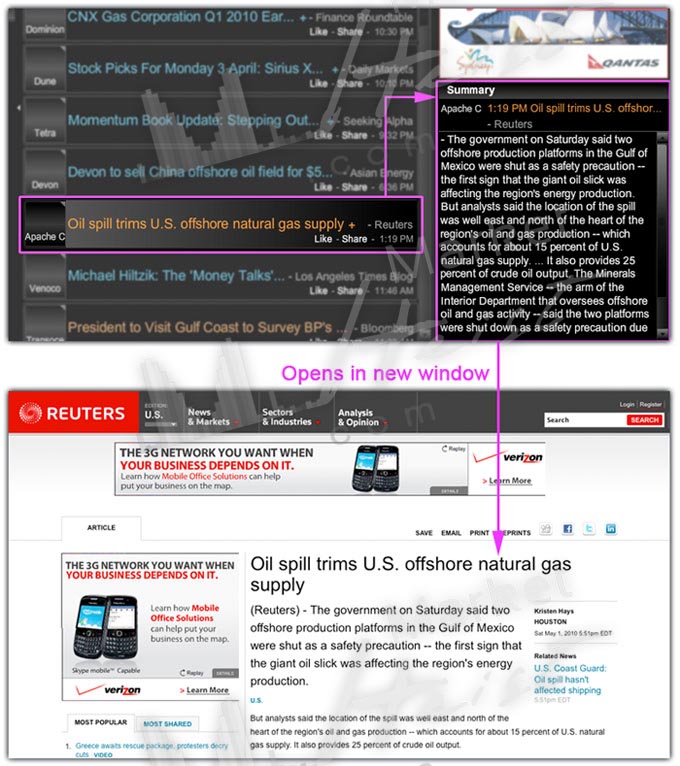 Skygrid Beta is still only available by invitation only. However, the general Skygrid App for the iPad is available in iTunes.
**marketHEIST is not affiliated with SkyGrid.  This is an independent review intended to inform and educate the consumer on the latest tools and innovations relevant to your financial success.