YouTube / MarketHeist.com - via Iframely
In this 3-part interview, Lori Ann LaRocco talks about how people may become more educated by engaging in financial media and business news.
In Part 2, Lori Ann gives some tips on doing your own homework and educating yourself to stay up-to-date. She explains that they produce Squawk Box to be infused with some pop culture to make business news less dry. But she stresses you have to do your own homework, read the major newspapers and magazines to stay on top of the current events. Also, how Lori Ann shares with us how she started as a local news reporter before being involved with business news. She has been at CNBC for 10 years and started as Maria Bartiromo's segment producer. Lori Ann was the first to book Exxon Mobil's former CEO Lee R. Raymond to appear on Maria's show.
Part 1: Lori Ann explains what her job is as CNBC's Senior Talent Producer and producer of CNBC's Squawk Box. In doing so, she gives us a different perspective of how the interviews and experts she books to appear on CNBC are meant to help everyone.
Part 3: Lori Ann responds to a twitter question "How do you book guests to come on CNBC?" Also, she shares what she believes is the most important question that should be on American's minds as we wade through this recession.
Lori Ann LaRocco's Blog: http://LoriAnnLaRocco.Wordpress.com
Twitter: @LoriAnnLaRocco
"Thriving in the New Economy" by Lori Ann LaRocco: http://bit.ly/laroccobook
http://marketHEIST.com
Twitter: @marketHEIST
Host: @JeffreyLin
About Lori Ann LaRocco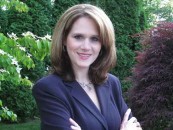 Lori Ann LaRocco is the author of "Thriving in the New Economy: Lessons from Today's Top Business Minds" and the Senior Talent Producer at CNBC. Lori Ann opens her "trillion dollar" Rolodex on a daily basis and gets insights into the financial happenings as well as the strategies they use to profit in today's new economy.