ThinkorSwim (ToS) mobile trading application for the Android platform is a great way to trade your stocks and options on the go. It's extremely user friendly but still has a lot of features that enable the "mobile trader" to invest on the go.  This review video was done on the HTC EVO 4G on the Sprint Network.  This app is almost identical to the thinkorswim iSwim iPhone app, but with a few extra features and capabilities.
6 main parts in this review:
1. Quotes - Charts: On the Quotes tab, ToS displays 3 different tabs up top for each particular stock: charts, news and options. The first tab is useful for studying the chart of each stock. ToS allows the user to check 4 different timeframes (sub-tabs) for multi-frame analysis, and allows for configuration of each plot with user-specified studies (indicators), plots and timeframes. To execute the trade, just scroll down to the bottom of the screen and click the "trade" or setup an alert.
2. Quotes - Options: The last tab on the Quotes window is extremely useful for a quick look at all the various strike prices and call/put premiums at each strike price for that particular month. Again, there is a trade execution button at the bottom and the ability to also setup an alert.
3. Positions: The position screen allows for the user to easily keep track of daily profits and losses, current positions & available cash & margin in the account.
4. Orders: The user has the ability to enter the orders screen from the bottom menu or from the quotes -> charts, options screens for the particular ticker (trade execution button). The order screen has 1-click or user input buy/sell or call/put volume entry, and also has the ability for entering into limits, stops, trailing stops etc just as any other trading platform.
5. Alerts: The user can create an alert from quotes -> charts or quotes -> options by clicking on the alert button at the bottom of the page. On the alert page, the user has three tabs: Active, Triggered and Canceled. The user can monitor which tickers on the alert list are still readily available and which have already been triggered. The user also can cancel any alert that they have put on.
6. Watchlist: This is a great feature that is seamlessly integrated into the mobile platform. The user has the ability to customize lists of specific groups of tickers and quickly view and/or edit each of the watchlists.
Overall, ToS mobile platform is a great trading platform for those who need to trade when there's no Internet and no laptop around. Understandably, we all can't man up our 10-monitor stations all the time, so in the cases where these conditions present themselves, ToS mobile trading platform is one of the best out there for the Android platform today.
marketHEIST Review Ratings for thinkorswim Mobile app
Recommended Skill Rating: Beginner
Quality: 5
Credibility: 5
Value: 4
Features: 4
Reliability: 5
User Friendly: 4
Support: 5
Overall Score: 4.6
Gallery
Watchlist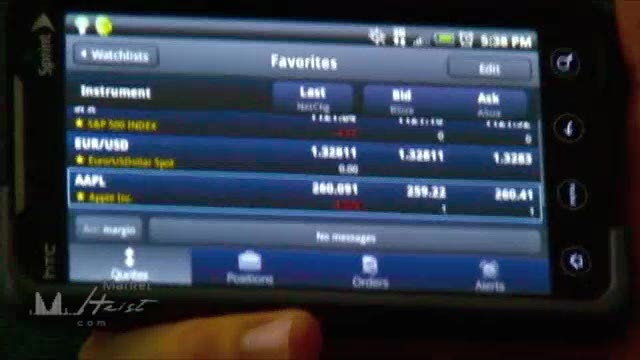 Trade Entry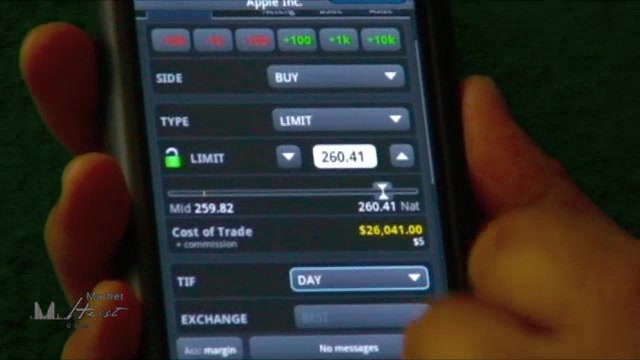 Chart with Indicators (Studies) - rotated vertical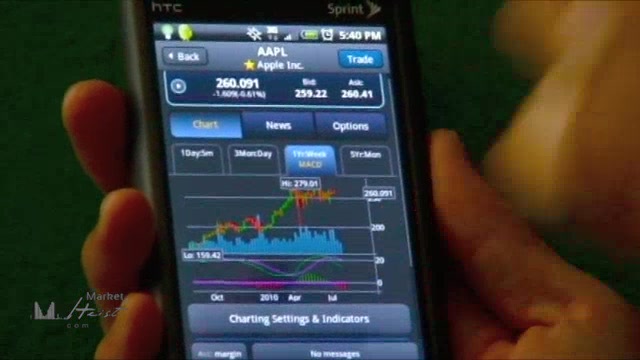 Options Chain