Infinity Futures is pleased to announce that an upgraded version their state-of-the-art front end trading platform Infinity AT (Active Trader) is now available! The Infinity AT is a direct connect trading platform that offers outstanding speed, execution, functionality, low commission rates, not to mention $500 intra day margins for the equity indices.
New features:
Ten Deep Depth of Market Order Entry Window.
Cumulative Volume at Price: Total cumulative volume for executed trades at that price before moving to the next price level. (Volume of the last executed trade at that price)
Infinity AT order entry platform also offers:
$500 Intraday margins
Low Commissions
FREE trading platform
FREE real time streaming data
5 different charting packages
Direct toll free number to your representative
Low starting balance
Details
Depth of Market (Level II Book)
Infinity AT provides real-time streaming exchange prices through its Trading Ladder. AT shows CME Group and Eurex bids, offers and volumes 10 tics deep and ICE data is 5 tics deep. The platform technology provides exceptional speed (run the Market Book/Trading Ladder side by side with your existing vendor and see for yourself).
Single Click Order Entry and Management
For traders that rely on swift performance, Infinity AT provides for single click order entry and order cancel functionality.
Drag & Drop Order Management
Working limit, stop, bracket and trailing stop orders are visible on the Trading Ladder. Orders can be modified simply by dragging and dropping the orders with your mouse.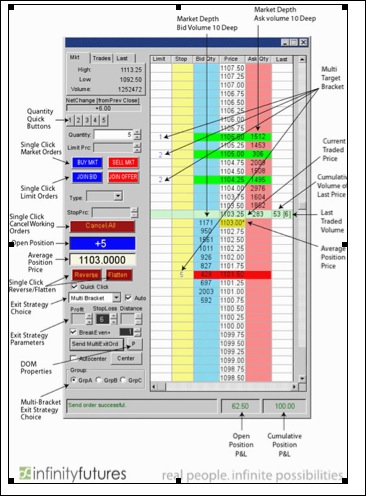 Brackets, Trailing Stops and OCO's
Infinity AT provides both simple brackets and multiple brackets (up to 3 multiple targets). In addition, traders can add or initiate trades with trailing stops.
Integrated Charting
Infinity AT customer can choose to use the advanced charting that is integrated into the platform. This charting feature provides advance studies and customization features,
which can substantially lower your charting cost. Intra-day charts available for as little as $26 per month.
Multiple Book View
Infinity AT is customizable and allows traders to view multiple market books simultaneously.
Flatten Feature
This provides traders with a single button click on the Trading Ladder to cancel working orders and flatten their position.
Auto Reverse
The Auto Reverse feature allows traders to reverse their open position with a single click of the mouse.
Easy to Use & Fully Customizable User Interface
Traders can customize everything from mouse button action to the layout and color schemes of the Infinity AT platform.