Since 1996, TheStreet.com (NASDAQ: TSCM), Inc is a leading financial media company that provides a variety of subscription-based content and tools including platforms, websites, mobile devices, email services, widgets, blogs, podcasts and video channels. The company was co-Founded by Mad Money's Jim Cramer to help investors understand a little of what goes on in the marketplace. They are a complete financial media site with investing resource for investment ideas, news, analysis and financial data, as well as assisting other advertisers and products to gain exposure.  Although they do not have the print publication exposure like the Wall Street Journal or Barrons, TheStreet.com rivals these big names with the amount of content they have.  TheStreet.com focuses its efforts on producing unbiased coverage of financial markets while still producing analysis and tools for the users to understand and use themselves.  As with reading all financial media, TheStreet.com is great for news, data, information, and education but be careful about following every piece of advice.  You still need to do your own homework before making buying or selling decisions for yourself.  This overview describes the entire TheStreet.com, Inc network and gives a general overview and review of the company as a whole.
TheStreet.com has 6 different sub-tiers in its entire network.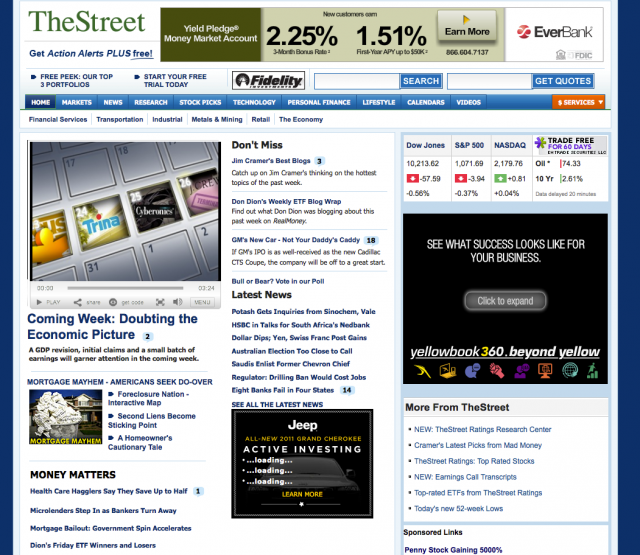 TheStreet – This is their flagship website with all types of paid subscription products including Jim Cramer's Action Alerts Plus, Breakout Stocks, Daily Swing Trade, Top Stocks, and many more. On top of that, there are news, analysis, video reporting, market reports, stock picks and much more free information located on their site. A more in-depth report for TheStreet will be included in a later review.  This is a huge compilation of a wide variety of market information that's useful for all investors of all experience levels.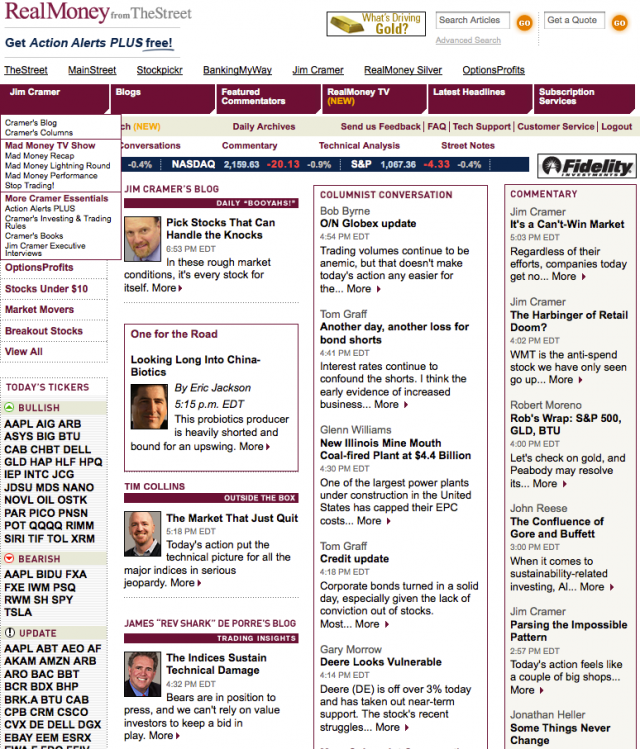 RealMoney – This product is probably the most well-known and useful investing service that is available for the everyday investor. It's a paid subscription service on TheStreet.com that provides bullish and bearish stock picks, trading insights and detailed descriptions by TheStreet experts such as Jim Cramer and James "Rev Shark" De Porre and many more, and market bulletins and weekly roundup summaries sent twice a day.  Here is a full list of RealMoney.com contributors.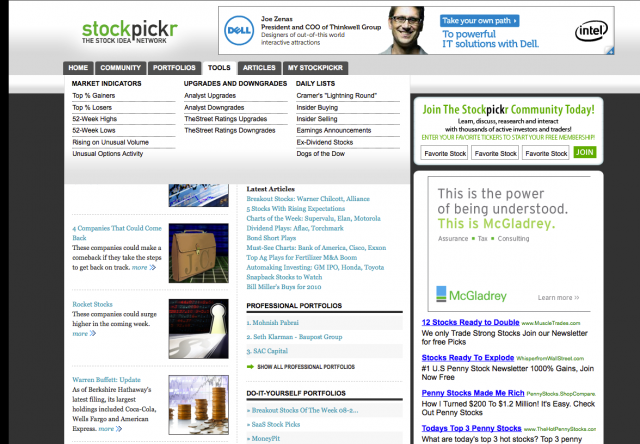 Stockpickr – This website is mainly focused on investor's portfolios and integrating social networking with stock investments.  James Altucher, managing partner at Formula Capital, founded Stockpickr while compiling data of what the biggest and best fund managers like George Soros, Carl Icahn, and Warren Buffet were buying and selling.  Stockpickr's Stock Idea Network provides investors with windows into the stock picks of other community members as well as professional investors, sparking discussion via idea-sharing forums and products.  Furthermore, an integrated charts and quotes feature allows for discussion and collaboration between investors while analyzing key fundamental statistics and basic technical data.
BankingMyWay – This website focuses on all type of personal finance and lending/investing that pertains to real estate, banking, insurance, and credit. This website is one of the nation's leaders in providing all types of banking rates and effective ways for consumers to find the best rates, as well as some educational tips on trade-offs between different time periods, types of loans or investments, and what best suits the investor's needs.
Rate-Watch – This website provides reports and services for consumers wanting information on deposits, loans, fees and comparative analysis between products.
MainStreet – A great website for personal finance, better living and everything else "main street". This site covers everything from spending wisely, investing, and news to retirement, tax advice and even lifestyle tips. This is a great resource for those investors who also want a breadth of advice in all facets of their life. A great general website for facts, opinions and advice.