contributed by Jennifer Titilah
Facts & Figures
Website: http://optionsXpress.com
Investment Products: Options, Futures, Stocks, ETF's, Mutual Funds, Bonds
See full product listing for optionsXpress
The Skinny
As an aggressive futures and options trader, I started with OptionsXpress and continued to be impressed with what the company offers. I use only a small portion of the many services available. Though the name implies the platform is only for options trading, OptionsXpress is a full service broker site. I trade futures, options, ETFs, and equities using OptionsXpress. I stay with OptionsXpress because of the
1. high level of customer service
2. order execution
3. tools: charts, options analysis tools, as well as the mobile phone price alerts, and mobile trading platform.
Options Trading
optionsXpress is the leader in options analysis tools and options trading. Here is a screenshot showing the pricing with deltas and volatility for my planned, well crafted diagonal call spread (below)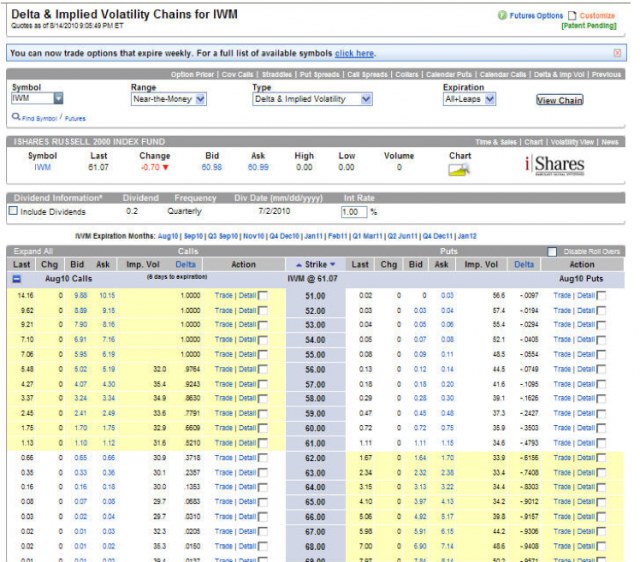 diagonal call spread for IWM options chain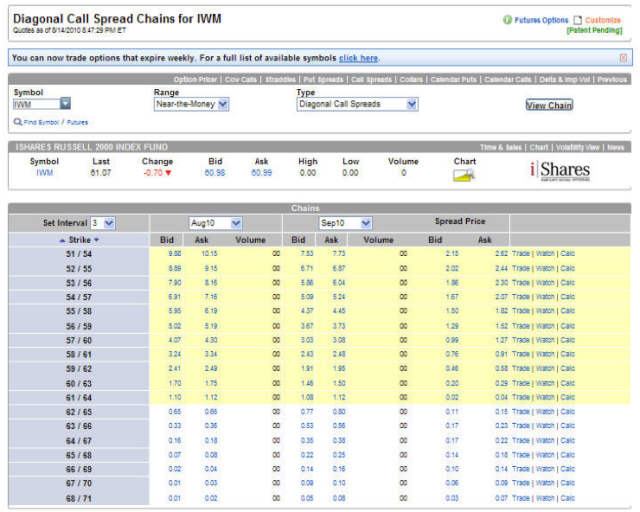 diagonal call spread pricing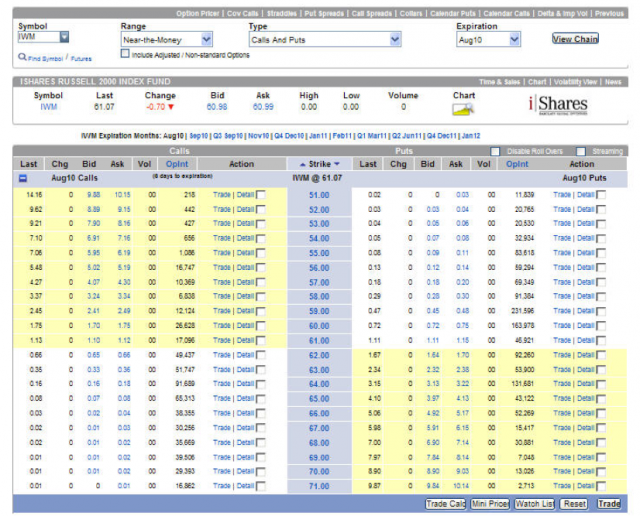 diagonal call spread pricing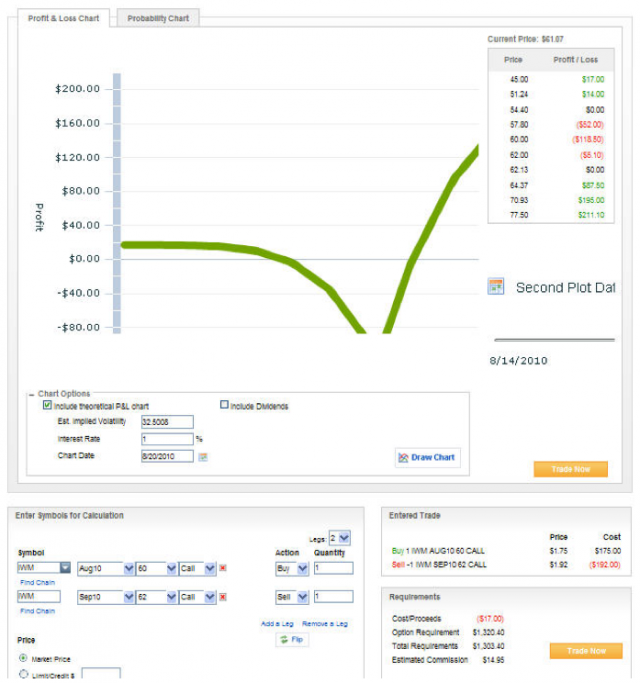 A picture is worth a thousand words! (at the time we were looking for $65)
Futures Trading
For futures trading, OptionsXpress has worked very well. My favorite futures instrument is the Russell2000 futures contract, symbol "TF." This is a very fast moving contract. I have found the advanced order entry (ATO) available on optionsXpress, to be very helpful in reversing quickly from long to short positions.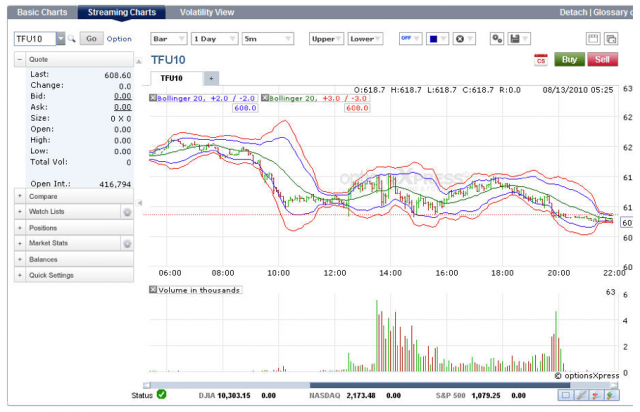 live streaming chart for TF (Russell 2000) Futures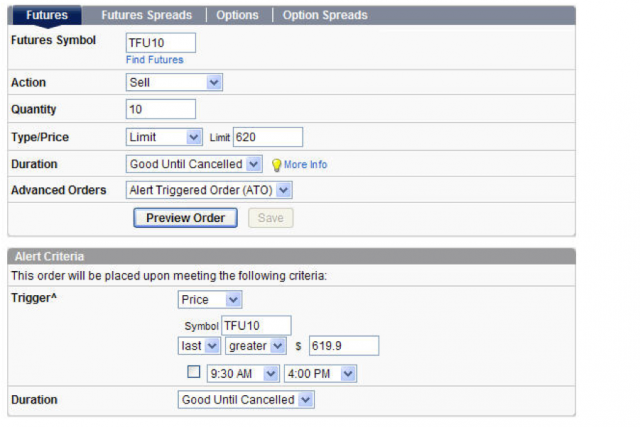 optionsXpress Futures order page for advanced orders in Futures
Trader Tools
optionsXpress offers a wide selection of tools for traders. Market scanners, news, option chains, option analysis. An afternoon exploring the optionsXpress tool shed is well worth the time. Virtual Trade lets traders practice with the tools first!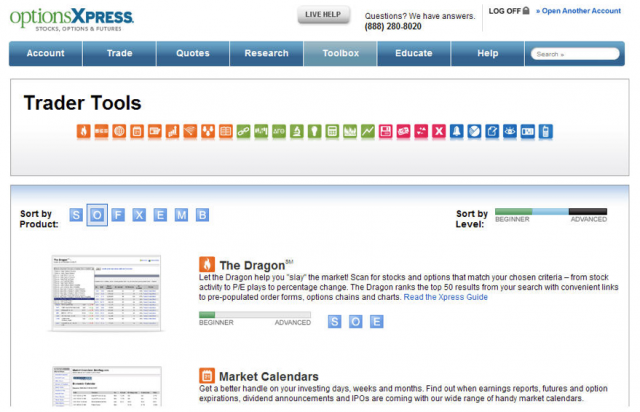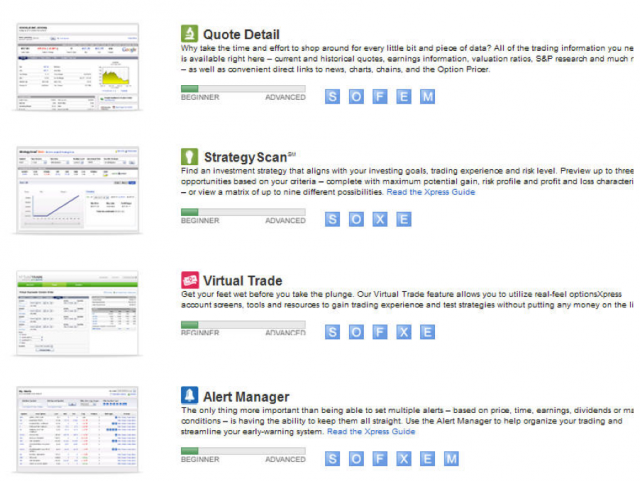 Education: optionsXpress Education Center
The Education feature offers high quality knowledge for the beginner to the experienced. I started trading options and used the OptionsXpress education section for the knowledge needed to expand into trading futures.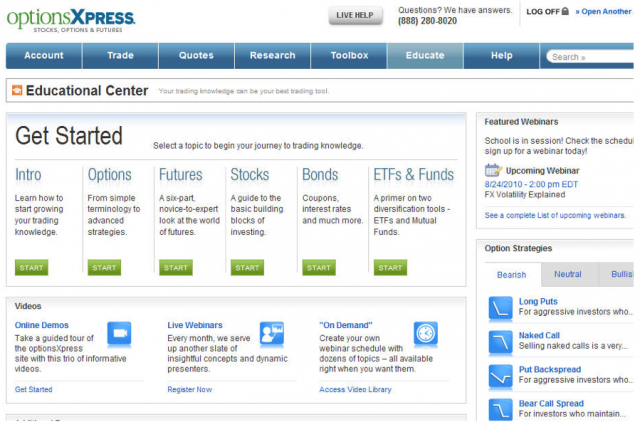 Mobile Trading from Smartphones
We know you are mobile! I am very very mobile, driving weekly back and forth between Tahoe and San Francisco. Sometimes I travel and stay overnight in hotels that lack the Internet. Or with friends who are off-the-grid. No worries, I can trade using my mobile phone. It also works well if the Internet goes down during a trading session. Gasp. Has saved a few trades.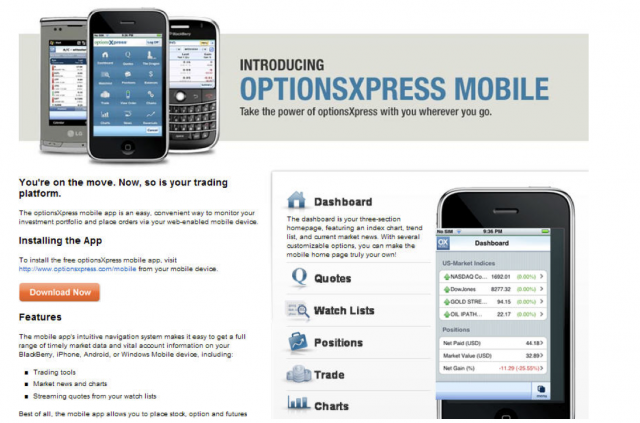 Mobile Alerts
Do you trade Globex overnight, and want to be alerted when prices get near your target? Or be reassured that your order filled … The Mobile Alert Feature will help you. I take lots of naps at night, and like to be alerted if the market is moving in other than expected ways. One thing that would be a nice addition to OptionsXpress is audible tones from the computer, but that improvement is surely under consideration.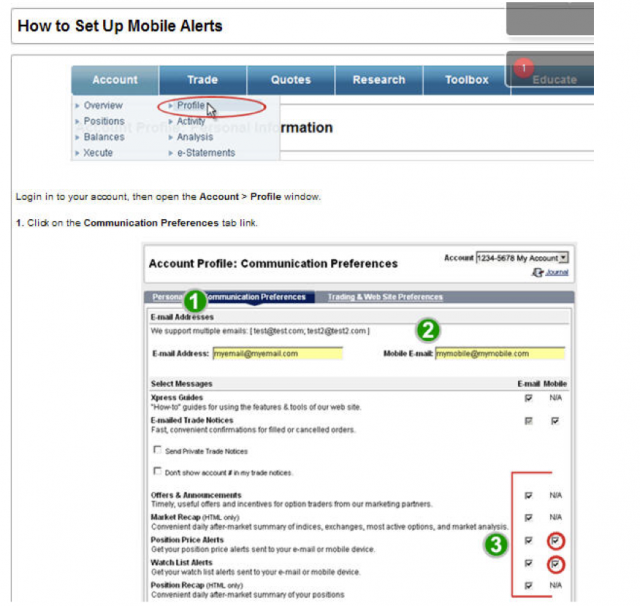 Xtend Trader Platform
I've poked around this platform, seems very feature rich, but have no real experience with it. Check it out.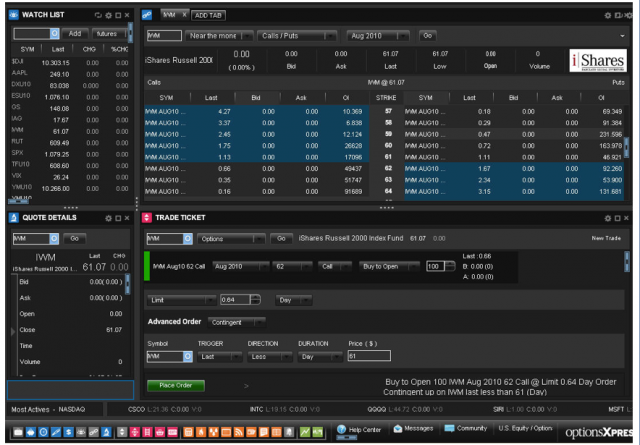 Ratings:
Overall Score: 5.0
Recommended Skill: 0 (Trainee)
Quality: 5
Quality is defined as, 'the totality of features and characteristics of a product or service that bear on its ability to satisfy stated or implied needs.' OptionsXpress delivers an integrated, feature-rich, highly useful platform that works dependably and consistently, like your favorite car.
Credibility: 5
Credible can be defined as ,' worthy of belief or confidence; trustworthy.'
optionsXpress is a sound platform backed by a solid brokerage that performs reliably, even during fast markets.
Value: 5
Value is defined as, 'equivalent worth or return in money, material, services, etc.: to give value for value received.'
optionsXpress offers free, high quality, sound education for traders in addition to a quality, high functioning brokerage service that offers competitive (though not the lowest rates).
Features: 5
optionsXpress has an enormous menu of products and services that meet the needs of active traders: brokerage, charting, analysis, and a trading platform (including my fav, mobile trading).
Reliability: 5
I've traded on some of the busiest days and the platform worked.
Only a little slowness was evident, trades executed, and customer service calls were quickly answered.
User friendly: 5
For a busy trader, a user friendly platform can make a huge difference. optionsXpress.com has a huge amount of information available on the platform, but it well organized, searchable, and logical.
Support: 5
I have found customer service to be excellent. I make many trades in any given session and have found my phone calls answered quickly. Customer service even checked to make sure I was the person making the many trades and that my account was not hijacked. A live online chat also is available to answer questions.