Infinity Futures offers the Infinity AT platform along with the best simulated platform I have tested. At MarketHeist our goal is to find the best products and platforms available for the individual or retail trader in order to help them make better trades. Every trader should have the best tools available to them to do their job which is making good trades. If you make good trades and have the right tools to make those trades then the profits will be there.
Futures trading is becoming ever more popular for many reasons. The tax advantages, high leverage, almost around the clock trading, and so on.  I think twitter and more importantly stocktwits has helped in the effort to show that futures trading is not as scary as some think. There are plenty of opportunities to be very successful in the futures market everyday. Just follow @HamzeiAnalytics, @FuturesTrader71, @eminiwizard, @JT707, @Riskcap, @eminiplayer, @TraderSmarts, @Risk_Manager_NY just to name a few on Twitter and you will understand.
However whether you are a seasoned trader or a beginner it is best to get a feel for the particular instrument or future you intend to trade without putting real capital at risk by first going on a simulator. This is not required and I am sure some would advise against this because trading ladder or DOM (Depth of Market) on a simulator does not fill your trades like a real time system. When one place's and order in real time in the futures market they are placed in the queue. It is a first come first serve system. It is possible and happens at times that price could hit your order to buy or sell and you were not filled. There was not enough volume at that price at that time to get to your place in the queue. It is part of the business.
The simulator that Infinity Futures provides is the closest trading ladder I have come across that feels and acts like real time trading. I have tested their system for the last week and there were times I sat in the queue and did not get a fill on my buy or sell order. Trading on simulator is nothing like trading real time because you do not have any skin in the game. But for whatever reason if you need a to paper trade the futures market then in my opinion you should try the demo account of Infinity Futures.
Some Suggestions When Using The Infinity AT Demo Platform:
Treat your simulated trades like they were in your real account:
Use realistic stops
Trade the same number of contracts you will be trading in your real account
Use the same strategies you plan on using in the real market, etc. Of course you can use the a simulator to experiment with, but once your experimenting is out of the way and you have your strategy down, stick to it over an extended period of time to see how it works.
Disadvantages Of Using The Infinity AT Demo Platform:
You do not have real money on the line, "no skin on the line" as they say.
If you trade with hard stops when trading for real you may tend to disregard these stops on the simulator. You must honor those stops.
It is easier to let winners run on the simulator as well so you must try and trade as you would for real.
In testing the Infinity AT platform simulator, the main disadvantages I discovered were psychological and emotional in nature and common to trading on all simulators. However they have nothing to do with the functionality of The Infinity AT Demo platform.
Advantages Of Using The Infinity AT Demo Platform:
Infinity has designed a simulated trading platforms to make it harder to trade than real life trading especially when it comes to limit orders.
*For example, other platforms will fill your limit orders even if the limit price is hit just once, which is not indicative of what you will experience in real trading. In electronic futures trading, limit orders are filled on a "first come, first served" basis, meaning if there are currently 600 contracts trying to sell at 855.50 and you place an order to sell 5 at 855.50, 600 contracts need to get filled before you start to get filled. So depending on how many contracts trade at each 855.50 tick you may need to see several ticks at that price before your order is filled, in fact 605 contracts have to trade at 855.50 before all 5 of your contracts are filled.
The Infinity AT platform actually waits until the market trades through your limit order, in this case 855.75, before it will report a fill to you therefore, making it harder than real life trading in this regard. Infinity would rather make this filling of your simulated limit orders harder, so you are prepared for the worst case scenario that will occur sometimes in the real trading environment.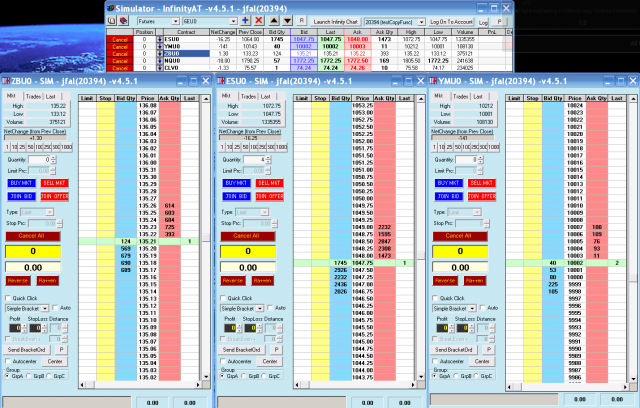 Features:
The Infinity platform is loaded with awesome features. I will focus on a couple here that I found to be very impressive and I would not not want to trade futures without them now.
1. Multi Bracket Orders - after some quick settings of properties you can place a multi bracket order with one click, setting your profit targets and stop. This feature is a very effective strategy in fast moving markets because you may not have the dexterity to manually place your orders fast enough especially if you are doing multi contract orders in as fast market like the YM. In the image I have provided a 4 lot contract order was placed along with my predetermined profit targets and stop in one click. After the 1st target is hit which is a 2 lot the stop will automatically be adjust to a 2 lot from a 4 lot. I love this feature. It allows you to trade your plan. After the order is placed you can make any changes you want to the brackets and adjust them accordingly by simple click and drag. It makes trading fast markets more manageable.
2. Scaling Brackets - there maybe a situation where you may want to add to an existing multi bracket order. When you add to a position using scaling brackets Infinity's system sends out a new completely independent set of brackets creating a new trade. The old functionality combined the and the stops together. With the new functionality the scaling brackets allows you to place multi bracket trades in the same market on the same DOM that are completely independent of each other when it comes to OCO functionality.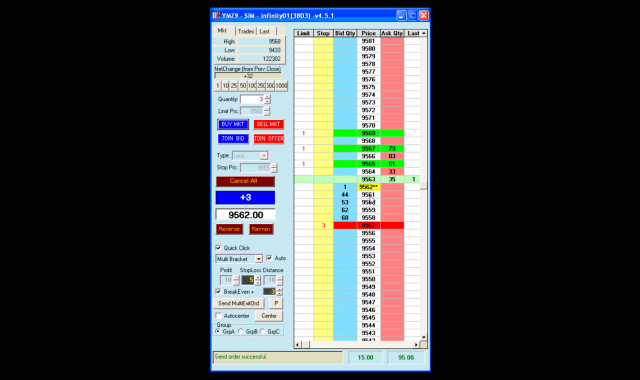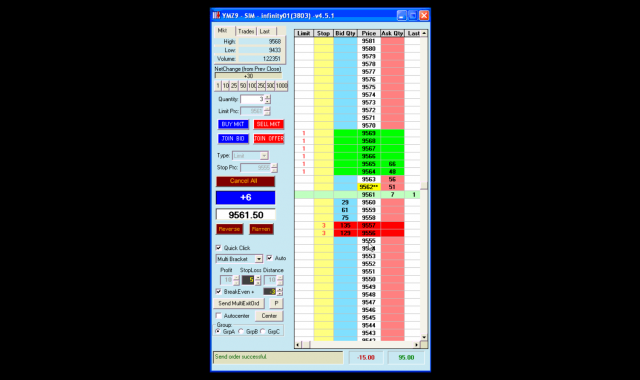 When targets are achieved stops are adjusted automatically.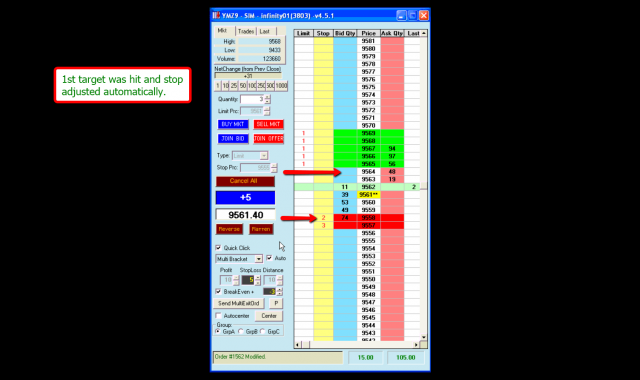 There are so many amazing features these are just a couple of my favorites.
If for whatever reason you want to test your mettle in the futures market or need to build your confidence back I highly recommend using the The Infinity AT Demo Platform.
*The above example was provided by Infinity Futures.
Ratings
OVERALL SCORE: 4.4
RECOMMENDED SKILL: 3 (Advanced)
Quality: 4
Credibility: 4
Value: 5
Features: 4
Reliability: 4
User Friendly: 5
Support: 5