Suggested Skill Level: 2/4 (Intermediate)
by SPYderCrusher, SPYderCrusher.com
This is a tutorial video on how to find the best performing stocks using sector analysis in Worden's TC2000.  You can also use this to find the worst stocks in the best sectors, the best stocks in the worst sectors, or any other combination.
When people say this is the best stock in the sector, BEST is a subjective way of describing something.  What conditions or qualities of the stock determines if it is the BEST?  I'm going to show you a couple of different ways of determining outperformance, and how to find the stocks that are outperforming in a quick and easy way.
I thought this would be an interesting analysis to do today because the market (S&P 500) is currently correcting, down 1.83%.  To find out which stocks have done better or worse over this period would be useful information.  There's absolute performance (how much EXACTLY did a stock go up or down) and relative performance.  What is relative performance?  If my stock goes down by 1% but your stock goes down by 5%, then even though my stock lost money it relatively (compared to yours) outperformed (did better).  I prefer to look at it that way than looking for stocks that are up, say, 10%.  Because, for example, if in the market all stocks are down 50%, hypothetically, and yours is only down 3%, you did a great job in your stock selection process.  That is the biggest challenge: picking the right stocks.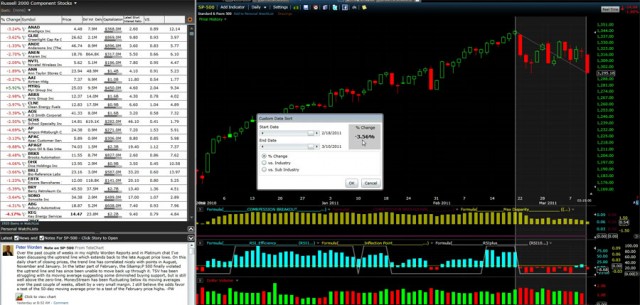 In Worden's Telechart (TC2000), there is are many easy ways to do this type of relative strength analysis.  One of the easiest if you're looking at a timeframe between the peak of the S&P 500 and today's low, then I want to find stocks that have done better than the market in this specific period of time.  In TC2000 menu, go to tools, then DATE SORT.  An analysis tool appears on the chart that allows you to measure the market's change.  This tool tells us the market has gone down by -3.56% since February 18, 2011, which was the peak.  When you click "ok" to set the date range, TC2000 will scan your watchlist, which in this example is the Russell 2000, and automatically change the order of the stocks to show which ones have outperformed the most since the market high on February 18.