At the TEDxConcordia talk, Yan Ohayon speaks about his experience with algorithmic (aka algo) trading or HFT (high frequency trading) and how this new computer driven stock market is impacting the markets, our lives, and the world.
**Below is our transcript of Yan's speech:
When we think of Wall Street, these are the sounds and images that comes to mind.  A crowded room filled with humans.  Complete utter chaos.  People trading in a true sign of American capitalism.  But the Wall Street that I know is much more reminiscent of this [server farm image].  Quiet server rooms all create for the purpose of holding algorithmic trading systems.  Just the quiet sound of fans ensuring the ambient temperature is kept around 18 degrees.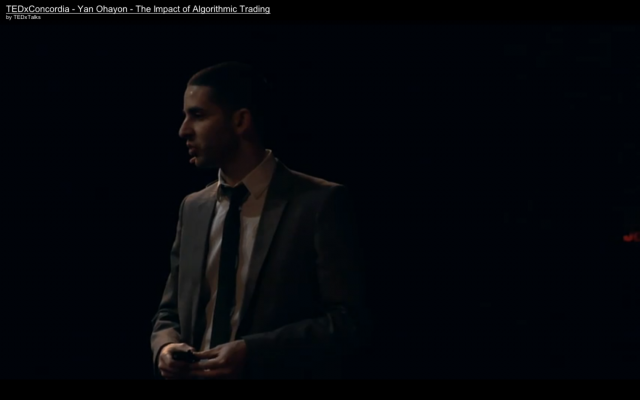 So what are these machines and what are they really doing on Wall Street?  What is their purpose and why have we entrusted so much of our financial system to these machines?  For one, we have to understand where they come from.  Fifteen years ago these algorithms were seen as very geeky concepts of business.  Nobody even wanted to acknowledge them or speak of them.  Today, those same guys are the entire business of Wall Street.  To represent this, lets see what's happened and it's repercussions.
Chart: Algorithmic trading accounts for ~73% of trading volume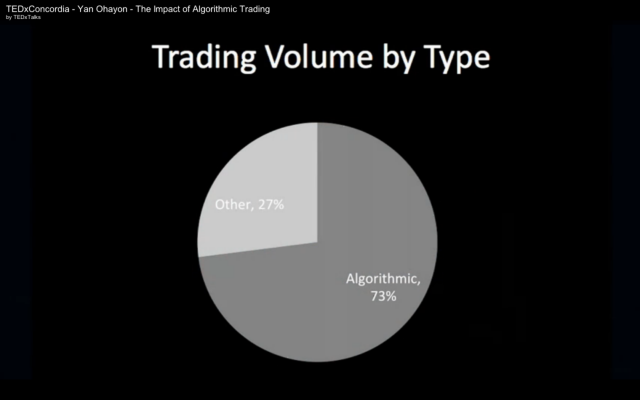 In terms of algorithmic trading volume, recent statistics are pegging it at about 73% of all the trades (i.e. volume) that's happening on Wall Street is coming from an automated system.  An algorithm of some sort that's making the decisions.  Simply put, 3/4 of every single trade that's happening out there is from a machine and not a human.
What's this have in terms of repercussions?  We used to think of markets and trades as a long-term concept.  Invest today, and pull your money out in three years from the stock.  But the reality is the average holding time for stocks on Wall Street has shrunk to a mere 22 seconds.  So why are these algorithms out there, what are they doing, why are they replacing us humans?  Let's take a look at the regulatory space and what exchanges have done to welcome these machines.
The NYSE (New York Stock Exchange) has become a "For Profit" organization.  As of 2005 they are no-longer a not-for-profit.  In the past, their main mandate was to regulate markets and create order: a place where people can raise capital.  Today, their main mandate is shareholder value creation.  They make revenue in 2 major forms: data and trading revenue.  The more data one consumes and the more one trades, the more money they make.  Two things algorithms happen to be particularly good at.
The second major change came in the form of Hybriding: an initiative taken upon by the stock exchanges such as the NYSE (New York Stock Exchange) and NASDAQ, which basically melded electronic markets and people as one.  If we take a look at the picture we have in front of us, this is the same trading floor we saw earlier.  What's interesting to note is even though people are dealing in person, they'll still an have electronic system in front of them in which they'll report their trades to the electronic market.  No matter what, man and machine have become one in the neural network.
How Do These Machines Work?
So how do these machines work?  It's extremely complex, but there are certain key things to understand.  Algorithms are the big guns on Wall Street.  They control a massive part of our volume.  The strategies come in many forms, such as bullets for different types of arms.  They can be simple things like a buy or sell at a certain price, or they can be much more complex and take in much more data sets or use behavior financial approaches.
The important thing to understand is that these machines don't look at value.  Traditionally investors have always prided themselves on figuring out what the true value of a company is worth.  These machines look at one thing and one thing only: PRICE.  The price I buy it for and the price I sell it for.  Essentially these machines are just massive dealers who sit around and look at millions and millions of deals per second, trying to find one that might be a perfect deal according to statistics.  When that happens, they (the computers) get in on it, and hope to profit.
Their speed gives them an advantage that no human can even begin to compete with.  How fast are they?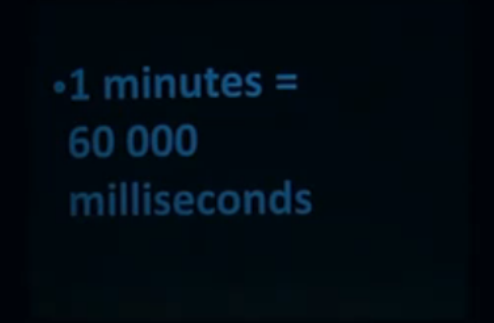 Why am I showing you what 1 minute is equivalent to in milliseconds?  Milliseconds was the old way that we used to measure our trade time.  About 3-4 years ago, 25 milliseconds was a good point of reference if you wanted to know how many trades your machine can handle per minute.  Now remember, I've spoken for a total of about 7 minutes.  This translates into about 420,000 milliseconds.  Assuming my computer can trade once ever 25 milliseconds that means by the time since the start of my speech I could've placed 16800 trades.  Now remember, this is a conservative number and things have drastically changed from 3-4 years ago.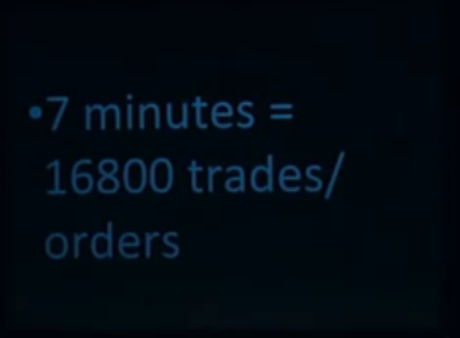 Today we operate in microseconds.  In 8 minutes, that's about 480,000,000 microseconds.  Modern day exchange are quoting times of about 120 microsecond times in order to request a quote or ask the market for the price of a given stock.  What's more impressive is trade times are hovering around 400 microseconds, equaling 1.2 Million trades in the last 8 minutes.  This is assuming we trade only 1 stock, but I can promise you if I spent all this money on technology and developed these massive algorithms there is no way I will only trade one stock.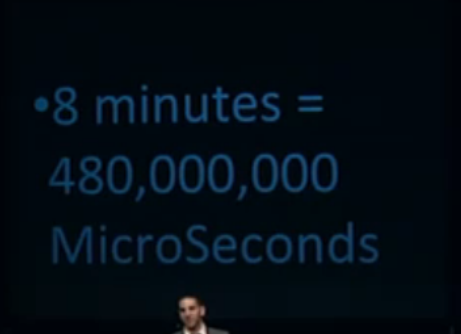 These machines are so fast and have so much computational power that even latency slows them down.  We have no choice but to locate our servers as close to the exchanges as possible because the physics of the situation can no longer house us.  The speed of light and fiber-optics are slowing us down.  So we're forced to use something called co-location.  What's co-location?  Basically, I move my server as close as possible to the exchange.  Remember, I can't compute any time if my data is being sent over fiber-optics.  So, instead of investing in technology and trying to get around the bottleneck, I simply ignore it and locate myself as close as possible to the exchanges.  I want to reduce my latency as close as possible to 0.
What is latency?  Think of a boomerang.  The time it takes from when it leaves my hand to when it returns to my hand is latency.  We measure this in microseconds.
Effect: Algorithmic trading programs in 2010 Flash Crash