STOCK MARKET COMMENTARY: 4/15/11
The Weekly Updater Stock Market Commentary is an abbreviated version of the commentary featured in The Option Strategist Newsletter.
$SPX touched support and its rising 20-day moving average at 1310, and probed slightly below that level today before rallying.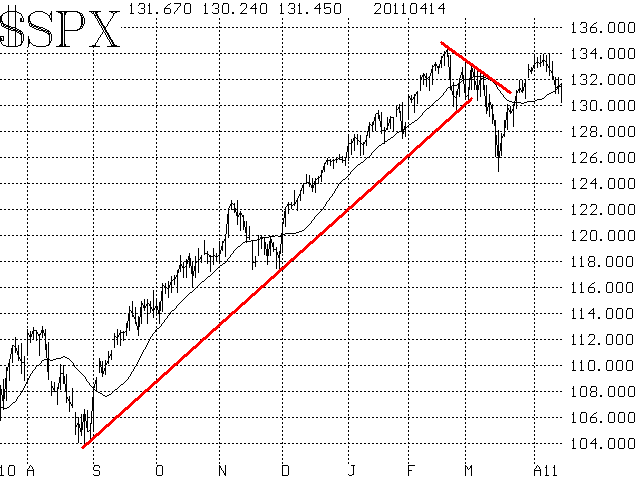 Perhaps more interesting is the fact that the equity-only put-call ratios have remained on buy signals throughout the pullback over the last week.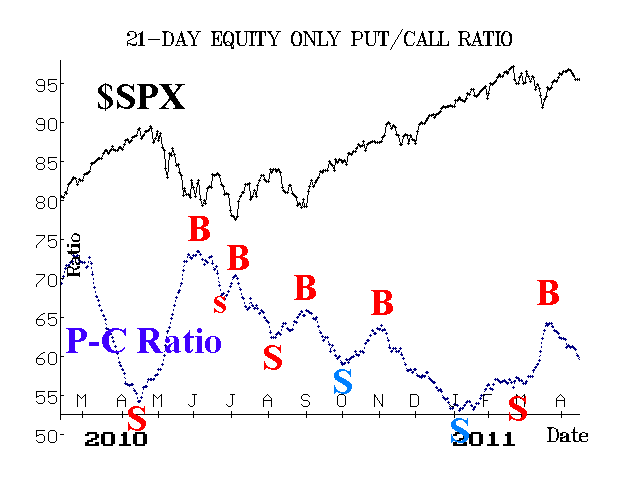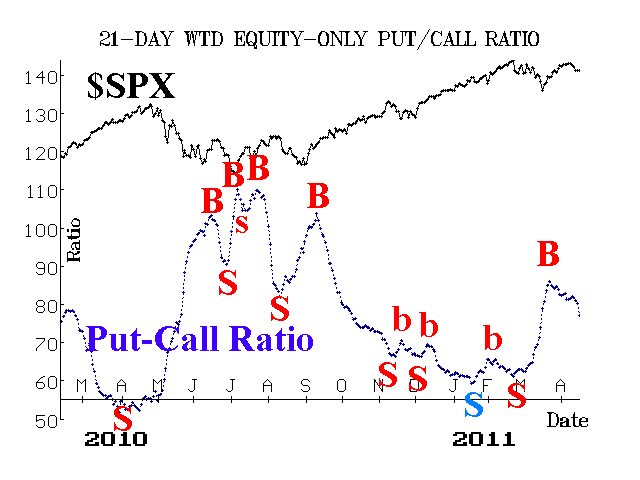 There was similar action in the volatility indices ($VIX and $VXO). The calm in these volatility indices is another bullish indication, despite the falling broad market.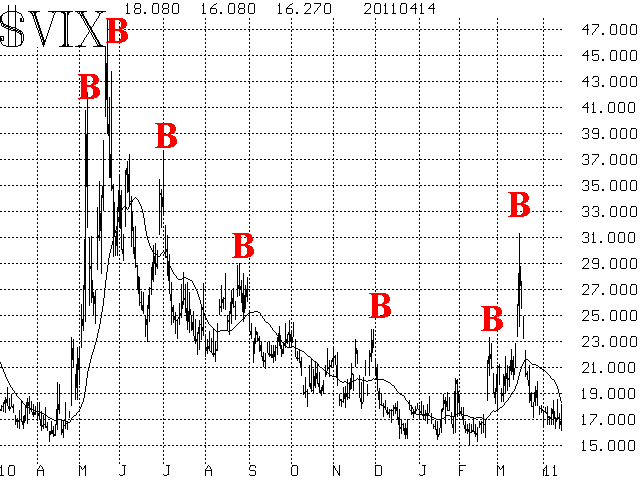 Only breadth is giving a negative signal at this time.
In summary, the bears have growled a bit this week, but the market has pulled back to its rising moving average in an orderly fashion -- alleviating its overbought breadth condition -- while the other intermediate-term indicators remain positive. This is a positive combination from our point of view.
UPCOMING EVENTS
April 26-27, 2011 - New Date
Load up your options trading toolbox with the knowledge, strategies, and tactics from the 3Gurus and 6 market experts. See what the gurus have in store to help you trade this current market and what's ahead.
Join the 3Gurus live online from anywhere in the world for only $99. Leave out the hassle of babysitters, airports, rental cars, and hotels for this type of 2-day mega seminar. Be a part of this from anywhere you feel comfortable so you are fresh and ready to learn!
If you've always wanted to attend a live seminar with top traders but the events were just too far away, well here's your chance.
Lock in your seat now. This is a global event open to anyone with an internet connection, so limited seating is expected to go fast.
See the full schedule and register.
June 15-18, 2011
The Traders Expo Dallas
Hyatt Regency Dallas at Reunion
We will be traveling to the Traders Expo in Dallas this year. Details regarding schedule and presentations will be announced in the near future.
June 17 1:15-2:15
How to Use Volatility to Your Advantage
Free Presentation (Trade Station Sponsor)
June 18 2:00-3:00
Using Option Data As A Forecasting Tool
Free Presentation
Click here for more information or to register