contributed by Frank Perry, StockGuy22
Money Management , Position sizing and Risk - Reward Analysis
When I was asked to do this article on Money Management in Trading, I thought about how to approach this important topic and how to convey how much it has helped me during my trading career. Money management and management of risk in trading is one of the most important skills a trader must develop if they hope to profit from trading on a consistent basis. A good money management plan must have two key components.
Position Sizing - the amount that you will be risking per position/trade.
Risk-Reward Analysis - A calculation of risk vs. reward on a particular trade.
Due to the short term fluctuations in the market, the results are essentially random.  A trader or active investor must approach them in a similar fashion as a successful poker player and/or blackjack player that can count cards: they are essentially dealing in probabilities and uncertain information. They constantly must attempt to skew these numbers in their favor if they are to succeed in the long term. They can still have losses but be profitable overall. That same process can be applied and seen in successful traders.
The Novice Trader
Let's look at an example of a Novice Trader: Let's say this new trader has a $10,000 bankroll to start but he doesn't have much experience trading. What will he/she most likely do ?
Invest that money into penny stocks & hope/pray for a big win.
Use a good portion of that money to learn from experienced traders ( books, seminars, webinars, chatrooms and learn as much about trading from trading websites, twitter, trading message boards and free trading sites).
Just trade blindly & hope for the best till he/she gets the hang of it. Trading can't be that hard, can it?
I would hope that Novice Traders always choose Option #2 since will be the best time/money spent. But here in our example, lets say our Novice trader chooses Option #3 ( Trade Blindly & hope for the best)
I want you to try this exercise:
Take a deck of playing cards - You'll see there are 13 cards ( Ace, 2, 3..King) with 4 suits ( clubs, hearts, spades & diamonds) - Total of 52 cards. Let's put a value of % to each card so that red suits will represent a loss and black suits will represent a gain. Example: 4 of diamonds would be a 4% loss - 10 of Spades would be a 10% gain.
Let's pretend since our Novice trader doesn't have much experience and that he'll be putting his entire bankroll into each trade and that he will most likely experience random results.
These are actual cards I pulled from a random deck of cards: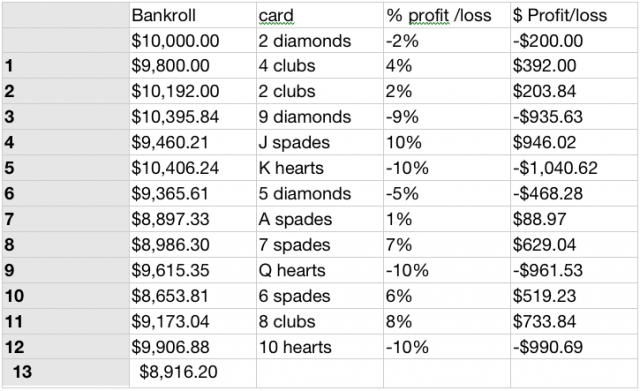 What can we learn from this?
Our Novice trader started with $10,000 and after 13 trades was down to $8,916.20 (before commissions). Our trader was a bit unlucky with these results, and while he could have perhaps had a good run and instead had a positive return, the point is that trading in this manner will result in very random results for a trader if he/she cannot develop a way of limiting the random statistical fluctuations of a normal market. So how can our Novice Trader increase the success rate?
Our Novice Trader can increase the success rate by Position Sizing & Risk-Reward Analysis.
Position Sizing
Let's step it up a notch and add some money management to his/her random trading plan. One simple thing our Novice trader can do is reduce position size from $10,000 to $1,000-$2,000 per position. This would leave him/her with a maximum of 5-10 stocks at any one time that will spread risk across the board and help reduce the unexpected big losses. In trading surviving is critical so cutting those losses down is of major importance. My maximum position size is a bit larger than most new traders ( @ $50,000) but what that does is give me a good starting point on any new trade. As your account grows, you'll have that flexibility and you can play around with that average size. For example, when I think a stock is more risky I will only play 1/2 or 1/3 of my average position size. On a stock where i've had more success I will increase my average size to 2 or 3x my average position. I also scale into positions into key support levels , for example buy $25,000 into support 1 and $25,000 into support 2. Even a trader with an average size of only $2,000 per position can follow this technique by buying $1,000 at a time.
Risk-Reward Analysis
A second thing the Novice Trader can add is risk-reward analysis which will compliment Money Management & Position Sizing to help minimize losses and maximize gains. May sound complicated but I will try to explain it in simple terms. If our Novice Trader is a swing trader and plans to risk $1 on a trade, he/she should make sure that there is the ability to make 3-5 times what they are willing to risk ( in this case $3-$5). If our Novice trader was just trading intraday (i.e. "daytrading" or scalping stocks) and was willing to risk .20 cents on a trade than he/she should make sure there is potential to make 60 cents -$1 ( 3-5x) on that trade. What this risk-reward analysis does is limit the number of stocks that he/she will trade since it will only produce potential trades with the maximum risk to reward ratios. It will also help take the some of the emotion out of the trades and help focus on potential bigger winners with low downside risk. This also has another benefit in helping to limit the maximum loss as a total of your overall bankroll when combined with position sizing.
A More Experienced Trader
Let's change the above example a bit and we will look at a more experienced trader using the same strategy but who takes much smaller losses and let's his winners run and/or maximizes gains. So we will take out most of the 8 , 9 10 J Q K of hearts & diamonds but lets leave 1 of each suit in there. Also we'll take out most of the 2 , 3 , 4 of the clubs and spades but let's leave 1 of each suit in there. This will simulate higher gains and lower losses: I dealt the cards again randomly again and this is what the results were: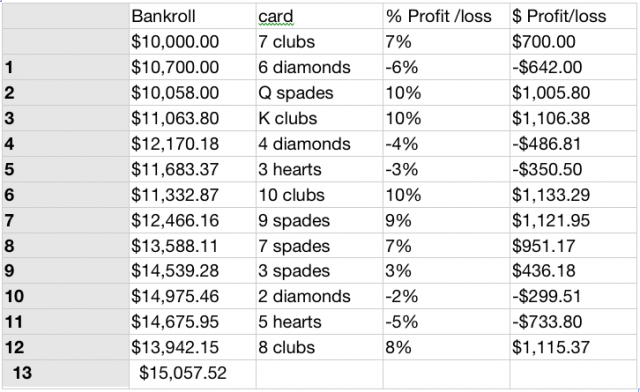 What does this example show us ? After 13 trades our more Experienced Trader did much better. Experienced Trader definitely had an advantage since there were higher gains and lower losses, but in reality that is a big advantage an Experienced trader has over a Novice Trader. Does this mean Experienced traders will never have losses ? Of course not, since as we see above there are 5 losing trades out of 13 but by keeping losses smaller and taking bigger gains this trader was able to turn the $10,000 into $15,057.52 ( before commissions). Try the examples above with your own deck of cards and a spreadsheet and you will see this play out much better over time for the Experienced Trader vs. the Novice Trader.
So, Is it possible to stack the deck in your favor in Trading ?
Yes! By understanding importance of money management, risk reward analysis , market conditions, fundamental and technical analysis you can stack the deck in your favor when trading as you can see from the above simple examples. There are more complex money management techniques but for the purpose of this article I tried to keep them simple. In future articles I can address other factors that play a role in management and/or how to develop from an Experienced Trader to a Master Trader.
Hope this article was helpful in understanding the importance of money management and how you can stack the deck in your favor in trading. By using the 2 simple techniques of Position Sizing and Risk-Reward Analysis you can take the randomness out of trading and help you on your road to successful profitable trading.
Regards,
Beginner
3 Users Collected
Post Topics
Download Our Free eBook
And subscribe to our MarketHeist Guides newsletter!