Why people don't get value from volume data and the role Volatility plays in "Hidden Volume"
Exclusive lesson contributed by Francis Hunt, The Market Sniper
I wish to present my take on volume and its significance as well as provide an example of how I may refine my trading utilising volume information.
My take on Volume in any given market and its significance:
"Volume is the amount of trade conducted at any given time period typically daily but measurable across any timeframe."
Volume is not a directional indicator on its own.
Extreme relative volume associated with a price move of some significance, however could be an additional validator to the price move.
By this I mean it is more significant than the same price move with light volume.
In short, high volume is similar to an amplifier. It does not make sound on its own, it just multiplies the significance of what moves are already made.
A friend once described volume's effect as that of Alcohol: if you are happy, adding drink makes you very happy, if you are sad you will become a drivelling wreck when alcohol is added. I could not possibly comment on this 😉
However a caveat to the price significance is also to do a detailed assessment of the intraday move itself that was experienced on the high volume day.
The additional significance implied on the high Volume day is at its best if a price opens at one extreme and closes at the other. In other words, opening on the high and closing on the low with high volume is additionally bearish and vice versa is bullish (in candlestick charting we call this "Belt Hold" days). In this example, aggressive selling throughout the day sought out all the lower levels of buy stops on the way down and the mass opinion of the market gave in to the assessment of the primary bearish view. (TIP: belt hold days often occur after news releases or new fundamental info becoming available)
If a big indecision day has taken place (high volatility, no price change) such that the price opened, ran up higher extensively intraday, then charged down past the open to an extreme low and came back up to the open level to close for the day (a candlestick pattern called a Doji), all this represents is extreme levels of indecision. No natural direction is necessary implied and hence the volume has no strict opinion to amplify the significance of, apart possibly from the appearance of Fear, Greed and indecision.
In short there may have been an intraday over reaction in either/both directions and 'value based ' investors either sold at the extended highs or were confident enough to buy with some force at the extended lows at a significant enough way to counter the original move(s).
The only exclusion for any opinion being drawn from the above Doji example, being if the Doji came after an extended trend (up/down) or followed a Gap opening (either up/down). This is the element I referred to as the trade 'environment' that which precedes or states the context for the event.
In the case of a lengthy up trend followed with a volatile doji candle for price action may be official warning of a possible change in trend, one that remains to be confirmed by future downside price behaviour.
How To Use Volume to Support a Trade
What I refer to as "Hidden Volume of Significance" often occurs when pricing congests at a fairly tight range over a number of time frame units (Days, 4 Hourly candles, Hourly whatever your timeframe).
This is a relative comparison to a period where previously a market's underlying price action and volatility may have been far broader in behaviour, this means without any exceptional single volume period an immense amount of trade (collective volume) has taken place over a tight price range over time (ie. low volatility environment).
This means the market has voted many times for the justification of current pricing and it may have more validity for now with the current information available than other price levels. This hidden Volume value can also sometimes be captured, when not normally easily spotted, by looking at longer term charts.
This is the foundation for Support and Resistance (S&R). People remember the level at which they traded and the current level all other prices are less important to an investor.
The greater volume that traded at a certain level the more inclined they will be to trade at that level again especially when accompanied by turning or reflex points (As they may just be going from profit to loss or vice versa at that level). This creates something I refer to as "Key Levels of Significance" which are more than just Support & Resistance levels (S&R), but often Gap Levels or Key Hunt Volatility Funnel Levels (my bespoke pattern that identifies key price levels that are not encapsulated by S&R yet provides early entries to break out moves).
Psychologically many people seem to see the level they traded at as the point of 'truth' and when price falls occur they automatically expect it to return like a homing pigeon, a failed fallacy.
A price on any given day is merely the markets best guess on that particular day and will be dictated by the perception of the fundamentals by the 'lead steers' or market collective as they express their views in action either buying or selling. The macroeconomic environment and view of the world currently in force on the day in question will also have a bearing.
In any market, a price level, if 'Voted for' by many (with high volume), the price level maybe deemed highly relevant as a price level. Invariably this is often tied to official news releases in shares it may be down to results season. Big volume in the absence of "official news" is even more interesting!
Break Out Trade Example: Volatility's Role in Hidden Volume
Note the chart of Sunoco below. It features my primary "Hunt Volatility Funnel" Break Out Trade Pattern.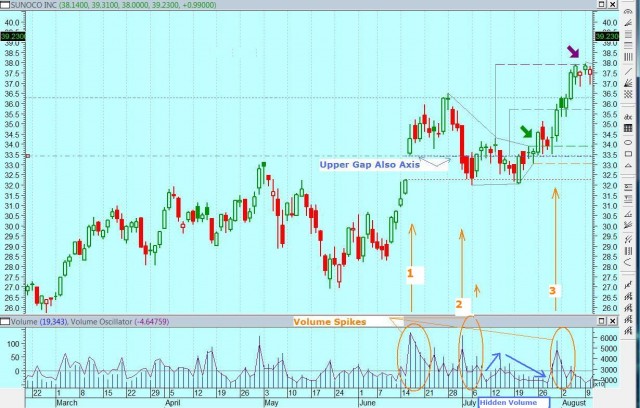 High Volume was encountered in the creation of the identified Gap or Window (labelled 1 and the first orange encircled area). Later again as support just after the window was closed in the down leg through the window (labelled 2). This confirmed to me a clear base being supported at the $32 price level (the volume was high in the second Orange encircled area).
Also In the Chart above, we could suggest that there was greater "Hidden Volume of Significance" by rule of summing up the aggregate volume each day between the 2nd encircled orange level (label 2) and the just before the 3rd encircled orange area (see Blue Box area and Blue arrows), as whilst no one day's volume was extraordinary, each day traded in a tight range in around the Gap level which later generated our Funnel Entry (green horizontal dashed Line) and loss stop levels (orange dashed horizontal line) at the upper range of the Gap that was formed earlier.
This plays perfectly into my Hunt Volatility Funnel trading pattern, as price action is tightening yet we are over time accumulating additional volume significance at the current price levels for every day the market is in a state of "Tight Agreement". This is the perfect set up for Volatility to return and for key levels to be distinguished so early capture of Break Out trades may be enacted.
Note how the upper level of the Gap/window later became our Midpoint to our Funnel when the funnel formed on the upside of the gap (tipping its hand on the direction of the break).
To be clear in HVF Theory, the Midpoint or HVF "Axis" level is that which splits the orange dashed and green dashed Horizontal lines in half – and the level from which we project our Targets from, as this is the pivot level around which price action was settling pre-Breakout.
Finally a 3rd spike of Volume occurred, confirming the significance of the break out upwards move at my identified Break out price level point.
However Note how the initial break at the Green Arrow (just sub $34) did not have much confirming volume and failed back into the Funnel (Dashed Green and Orange horizontal lines). The real confirming volume actually asserted 3 days later with the Green "Indecision Doji" (that candle directly above the longest vertical orange arrow labelled 3) and the price confirmation came in on the next day's up moving candle, that took us through to the grey dashed line at $35.75. Later on, on trailing off volume, we were taken all the way to our target at the Purple arrow at the $38 level.
It may have allowed us to get additional information on our trade plan. For example as a variation the trade may only be taken when above average volume confirms the Break.
In this case you could have entered on the Doji candle day (Above labelled 3 vertical orange arrow) or even later on the takeout of the Doji high, the following day, when the price action confirmed what the Volume suggested the day before.
This would have avoided 3 listless days yet still secured the bulk, if not all of the move.
I hope this example on Volume and how using it within an existing strategy, has helped.
I run a Trading site where trade opportunities are shared for both basic and premium members feel free to join our High Probability, Fast Moving, Break out trading community.
~ Francis Hunt
TheMarketSniper.com
Director
Phone: +44 (0)1727 760 073
Mobile: +44 (0) 7833 0969 52
Email: francis@TheMarketSniper.com
GMail: fdhunt@Gmail.com
Skype: francofxtrader (Skype)
GoogleTalk: TheMarketSniper – (Google Talk)
Website: TheMarketSniper.com
Twitter: http://twitter.com/themarketsniper
LinkedIN: http://www.linkedin.com/profile?viewProfile=&key=36099051&locale=en_US&trk=tab_pro
Intermediate
2 Users Collected
Post Topics
Download Our Free eBook
And subscribe to our MarketHeist Guides newsletter!