Exclusive lesson by Zachary "ZMoose" Musso, YoungGunsTrading

As funny as the above picture may be, all traders go through this on a daily basis.  A traders takes a trade based on a thesis, and the position goes against him immediately -POKER FACE.
"Not this trade, the offer will hold here, no doubt."
The offer holds and the bid drops a little to sort out the weak longs, allowing the trader to relax and find some confidence.  That's when the buyers get heavy on the bid and cut through the offer like butter - ANGER.  "What the hell!?  So what, I still have 10 ticks before my stop gets hit, the offer is giving a better opportunity sellers like me."
Next, we see the trader find a way to balance their anger and attempt to find a way to take advantage of their situation, still in denial of their poor choice in getting into their position in the first place - BARGAINING.  "Pshh, check this - I'm going to get short ANOTHER contract and double my leverage.  When this bad boy drops, I'm going to make double the profit I would have!"
So, the bid drops again, the same sense of confidence sets in, and then the offer gets railed again and the trader gets stopped out for a fairly large loss - DEPRESSION.  "How did that happen to me?!"
The trader looks at his PNL for the day - ACCEPTANCE.  "Okay..."
It happens to everyone, ladies and gentlemen.  It's a simple procedure, and the minute you recognize denial, the safest thing to do is get out of dodge and preserve your mental state of mind, especially if you've been trading well all day up to that point.  Remember:  everyone can make money, the tough part is keeping it.  I can't tell you how many times I've heard and read that phrase in the past week, and it's truly beginning to set in.  If you have a game plan and you trade your game plan, more often than not you'll make money.
WHEN YOU DON'T FOLLOW YOUR GAME PLAN AND YOU LOSE YOUR HEAD, YOU WILL LOSE.
The way I saw trading over Q1 was probably much different than many others, and it allowed me to plan differently for Q2 and the rest of the year.  Let's look at trading like a pie chart: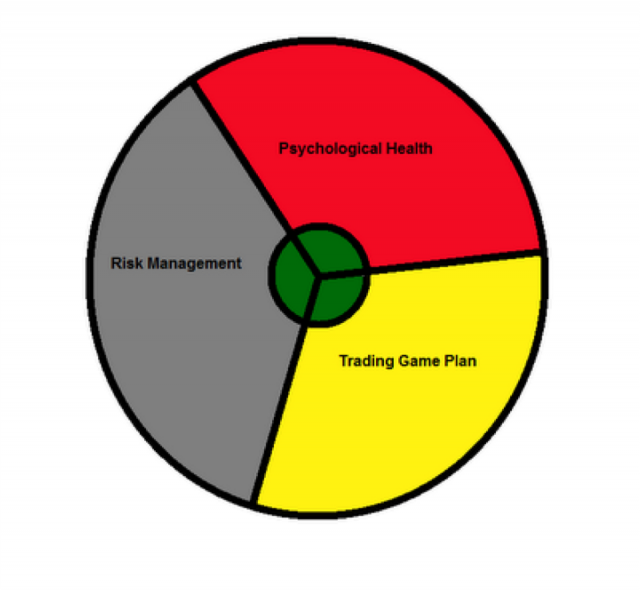 • Risk Management: Stop loss, profit target, Risk / Reward, and position sizing.
• Trading Game Plan: expectations for the next session, Levels of Interest, and intraday tape reading.
• Psychological Health: Staying positive and keeping your head.
Notice the three green segments in the middle of the circle (that, as I was told today by a friend of mine, looks like the Google Chrome icon). These three segments are isolated to remind you how crucial it is to have ALL of those pieces full of their green color while you're trading - if one of them is missing, the other two will have to compensate for its absence. If we took the above example, we would notice that the psychological health was damaged right away, as the trader immediately went into denial about the initial failure of his position. The trader then got pissed off, and risked more money in order to compensate for his initial loss, damaging both his trading game plan and his risk management. The center circle is now empty for this particular trader, and he has become a loose cannon.
The Trading Circle (a PH101 and Student Government meeting creation, might I add) can be used to diagnose your intraday trading habits to determine whether or not you should be at your desk putting money on the line - all you need a printer, some tape, and a wall!
~Zachary Musso
Co-Founder of Young Guns Trading
Founder of The Moose Outlook, MooseJaw Jabber:  Technical Trading
Office Telephone:  (312) 646-0866
Hempfield High School Class of 2010
Bentley University Class of 2014
- Computer Information Systems Major
- Quantitative Perspectives LSM
- Senate / Trading Room Group Project Leader, SGA
http://www.younggunstrading.com
http://www.themooseoutlook.com
http://www.mjtt.net
Intermediate
0 Users Collected
Post Topics
Post Details
Download Our Free eBook
And subscribe to our MarketHeist Guides newsletter!