Stock screeners, which most financial websites have some form of, are amazing. With stock screeners, it's as if each of us has an army of researchers pouring through thousands upon thousands of stocks and their financial data to find opportunities that match our investment criteria.
But even the most popular stock market sites, including Yahoo! Finance and the Wall Street Journal, don't allow us to do technical analysis scans for price patterns the big investors and funds are leaving behind.
We all had or know someone who's own stocks of companies with great business fundamentals, the kind of fundamentals like the P/E or even dedicated management that standard stock screeners allows us to look for. But it's very frustrating when these stocks never go up while other stocks seem to go up without end. Or, the stock of the good company you've scanned for, researched, and found actually goes down while other random stocks go up without end. Worse, within a couple days or weeks your bank stock or tech stock loses 90% or more (remember those of us who lived through the Dot-com bubble?!) and only later do you find out from the company management that something went wrong (duh!).
Therein lies the risk we're taking on when we only look at the fundamentals of a company: it's a snapshot of how the company WAS doing, but as investors we're trying to make money going forward. We pay attention to news that may be good or bad for the company's business, but also how the big investors acting. And I don't mean whether there's reports of insider or institutional buying. I'm talking about price patterns, candlestick patterns, and other technical analysis ways of looking at how the stock's price and volume that can show you when a big investor is dumping your stock as it happens, not 3 months later in a quarterly report when you've already lost a ton of money. Big investors are the ones who have the power to drive stock prices up and down, so heed their behavior even if you don't agree!
So, with a little foundation in technical analysis, free sites like FINVIZ and subscription services like TC2000 can help you quickly scan through the patterns in stock charts. If nothing else, it should give you a better idea of what prices the big investors are buying your stock and what prices they're selling. Especially in the confusing times we live in today, stocks can go up for weeks on end or have big losses overnight. You can't always wait till the quarterly report that's months away.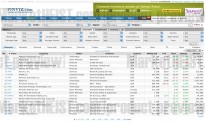 For starters, give FINVIZ's stock screener a try. You're able to screen for all the fundamental information, insider buying and selling, analysts ratings, and a ton of technical analysis patterns to boot. FINVIZ's stock screener allows you to sort and view the results of your screening criteria in multiple ways whether if it's ranked by key data or chart patterns. For more advanced analysis using screeners, such as devising a stock picking strategy or trading strategy, consider FINVIZ Elite or Worden's TC2000. Also, if you have TD Ameritrade, E*Trade, Schwab, or OptionsXPress as a broker, they have great stock screeners and testing tools too.