in: Hamzei Analytics
**Written Tuesday, May 22, 2012.  By Jeffrey Lin
Last week, everyone, their brother, and even the grandma were zoned in on the main event: The Facebook IPO.
Many many times oversubscribed, the Facebook IPO has been the buzz for months for professional and individual investors alike. On Friday morning Facebook started to trade on NASDAQ under the symbol FB. The stock opened trading at $42.05, bid up by the pent up demand from its $38 initial offer price, and has now hit a low of $31.12 at today's close.
So how do you make money from the Facebook IPO? Sometimes you have to look a degree or two away from the main event for opportunities.
On Thursday afternoon, super trader Brad Sullivan demonstrated this type of experience in the Hamzei Analytics Premium HFT chatroom. Sullivan took advantage of the Facebook IPO frenzy by buying Apple (AAPL) at the market close at $530.30.
While Facebook's stock continues to nosedive below it's IPO price, Apple didn't trade much below Sullivan's buy price of $530.30 and hit $573.88 this morning (Tuesday, 5/22/12). Great trades like this are posted consistently in this chatroom, led by Brad Sullivan and Fari Hamzei. Any one trade would pay for several years of subscribing to such truly professional services.
What was Brad Sullivan's strategy and reasoning to buy Apple as the Facebook IPO trade?
With permission from Hamzei Analytics, here's the real-time transcript from Hamzei Analytics' Premium HFT chatroom. Here, Brad Sullivan explained, executed, and managed his risk in this trade (*note: member names hidden for confidentiality):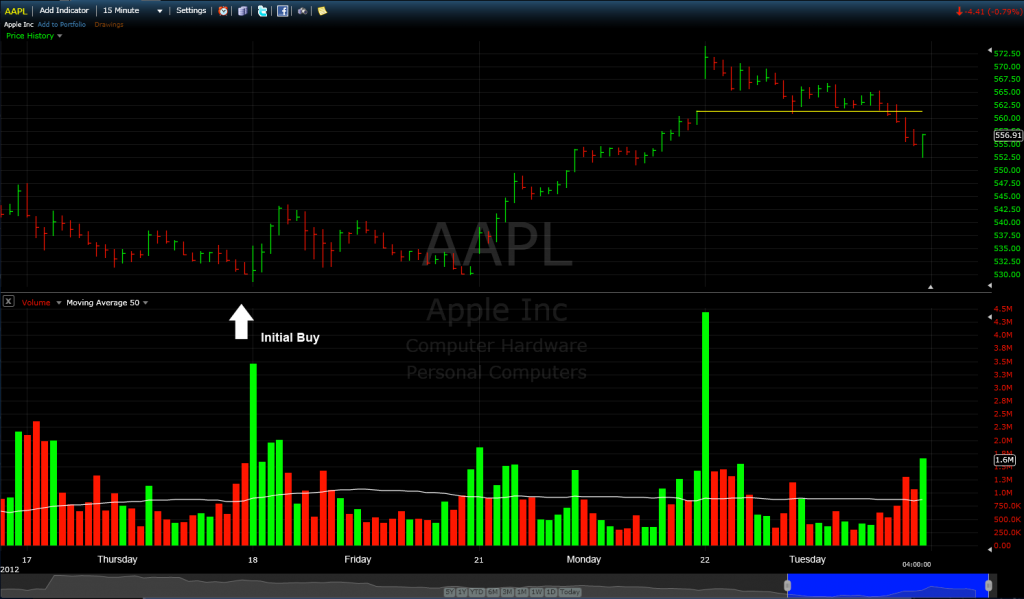 THURSDAY
Brad_Sullivan [14:36:24 CT] : i will also be a buyer of AAPL on the cash close
Member A [14:37:37 CT] : would u buy APPL calls here
Brad_Sullivan [14:38:46 CT] : sure - I will give u my thesis
Brad_Sullivan [14:39:01 CT] : which is that FB has forced the selling in AAPL
Brad_Sullivan [14:39:06 CT] : to some extent
Brad_Sullivan [14:39:12 CT] : accordingly I want to be a buyer
Brad_Sullivan [14:39:18 CT] : on the other side of that skid
Brad_Sullivan [14:39:28 CT] : btw
Brad_Sullivan [14:39:31 CT] : the NQ
Brad_Sullivan [14:39:43 CT] : and AAPL - could get crazy at the close
Member A [14:44:09 CT] : crazy dumping or crazy buying
Brad_Sullivan [14:51:13 CT] : dynamic long hedging in the indices
Brad_Sullivan [14:51:23 CT] : has been the game
Brad_Sullivan [14:51:39 CT] : along w reduction in portfolio leverage
Brad_Sullivan [14:51:44 CT] : or outright sales
Brad_Sullivan [14:51:50 CT] : worth noting
Brad_Sullivan [14:51:57 CT] : the opening 60 minutes of volume in NQ
Brad_Sullivan [14:52:10 CT] : will run about 50% higher than the closing
Brad_Sullivan [14:52:13 CT] : pretty rare
Brad_Sullivan [15:02:32 CT] : filled in AAPL around 530.30
FRIDAY
Brad_Sullivan [09:11:37 CT] : btw the AAPL purchase on the close
Brad_Sullivan [09:11:43 CT] : yday is rolling pretty good now
Brad_Sullivan [09:11:49 CT] : as for the indices
Brad_Sullivan [09:11:58 CT] : it is very very illiquid
Brad_Sullivan [09:12:04 CT] : caution
Brad_Sullivan [09:12:07 CT] : flags r out
…
Brad_Sullivan [09:47:06 CT] : AAPL
Brad_Sullivan [09:47:23 CT] : I am offering 50% around the 548 level
MONDAY
Brad_Sullivan [09:49:09 CT] : AAPL working quite well today
Brad_Sullivan [09:54:47 CT] : I am offering 50% of the long AAPL
Brad_Sullivan [09:54:55 CT] : position a touch above current levels
Brad_Sullivan [09:55:08 CT] : between 548.50 and 552
…
Brad_Sullivan [12:57:10 CT] : As I had noted earlier, with my offers in AAPL
Brad_Sullivan [12:57:23 CT] : I was filled on the 50% reduction in position
Brad_Sullivan [12:57:29 CT] : taken on Thursdays close
…
Fari_Hamzei [15:01:41 CT] : Brad's trade in $AAPL is getting great feedback from HFT Premium Members
TUESDAY
Brad_Sullivan [08:55:14 CT] : in AAPL I am selling another 10% of the position in the next hour
…
Brad_Sullivan [11:10:08 CT] : I am now liquidating another 10% of my AAPL position
Brad_Sullivan [11:10:19 CT] : leaving me w a net long 30% position
Intermediate
0 Users Collected
Post Topics
Download Our Free eBook
And subscribe to our MarketHeist Guides newsletter!