Stock Market Glossary: Basic Terms for Beginners
If you were never taught at least the basics of personal finance, it's easy to get overwhelmed by all of the opportunities there are to save and invest. And when you read about success stories like the one enjoyed by the people who run Million Dollar Journey (check out "Personal Finance Interview with Million Dollar Journey on the Best Way to Build Wealth" for more info), it's easy to get caught up in that inspiration and go too fast too soon.

Every number means something. Do you know what it is?
It's great that you're inspired, but you should never jump into investing blind - especially if your goal is to play the stock market. Before you start buying shares, make sure you have at least the basic vocabulary down. Here are some of the words you should know before you hitch your wagon to a broker's giddy-up (or whatever other cliché makes you feel comfortable):
Stock: A piece of a company. When you buy "stock" in a company, you are essentially buying a piece of that company and are entitled to a portion of its profits (if it makes them). Your "piece of that pie" is determined by how many of the available shares you purchase. Sometimes, stocks are called "shares."
Common Stock: Buys you voting rights at company shareholder meetings and entitles you to dividends.
Preferred Stock: Does not buy you voting rights, but does entitle you to more of the company's earnings and assets.
Dividend: The money the company pays to shareholders (that's you) out of the company's profits.
Bid Price: How much a stock costs.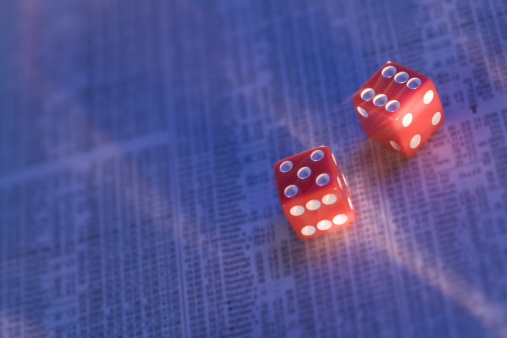 It won't be gambling when you know what you're doing and learn to use the odds.
Blue Chip: Stocks/shares in very highly regarded or "big" companies.
Bull: Someone who thinks his/her share price of the stock market is going up.
Bull Market: A market that experts and investors believe to be improving and that they believe will continue its upward trend. Investors are encouraged to hold on to their current investments and to expand their portfolios during a bull market.
Bear Market: A market that is trending downward (stock prices are falling). Investors are encouraged to sell of shares during a bear market.
Equities: Regular shares.
Debenture: Shares/stocks/loans that are based on a company's credit, not its actual assets.
Futures: A contract that allows the stock holder to buy/sell indexes and commodities later at the prices they are now.
Indexes: A method by which the value of a specific group of stocks is computed - usually it is used to figure out how the market overall is doing.
Commodities: A basic "thing" that is interchangeable with other "things" made by other companies. For example, crude oil is the same no matter who produces it; therefore, it's a commodity. But smartphones vary wildly by manufacturers and cellular providers; they are not commodities.
This is just the beginning, but it should be enough to help you at least understand the articles you're starting to read on how to trade stocks and beginner stock trading. Good luck!
Erin Steiner writes about personal finance and a variety of other topics all over the web.