A tablet can be an excellent tool for someone trying to learn to trade or engaging in beginner stock trading. No matter how small of a novice investor you think you are, waiting until you're "ready" for a tablet to improve your portfolio can decrease the likelihood that you'll ever actually be ready. As a new investor trying to play catch up, you'll have to learn on the move. If you're just starting out, the 24/7 crash course you're taking can't always wait until you're home in front of your computer. Consider the following tablets.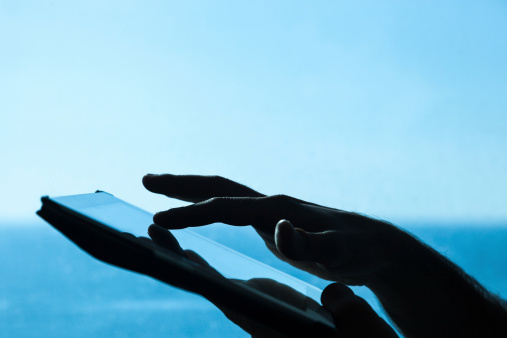 Tablets can be the only tool novice investors need to trade - and learn - on the go.
iPad Air
Powerful, portable and ultra light, the Apple iPad Air is a mobile stock trader's dream. Weighing just one pound with a screen measuring nine inches, the iPad Air comes with all the power of the multitude of apps - from beginner stock trading programs to more advanced software for when you grow - that are available in the app store.
Samsung Galaxy Tab 10.1
With a huge 10.1" screen, the Samsung Galaxy Tab is remarkably light and thin (7.3mm). The multi-window feature lets you view two screens at the same time - perfect for beginners who need to research as they trade. And Samsung's e-Meeting feature lets you share your screen with collaborators, which can help less-experienced investors seeking advice or a little help from a trader, broker or friend.
Amazon Kindle Fire HDX
The Amazon Kindle Fire HDX has the fastest processor of any seven-inch tablet. But more importantly, users have access to 100,000 apps - many of which can be used to boost an investor's knowledge, as well as to make money on the go. It comes in 16-, 32- and 64-gig options.
Microsoft Surface 2
Faster, thinner and lighter than its predecessor, the Microsoft Surface 2 is an amazing tool for mobile investors. Combining the best of both laptops and tablets, the Surface 2 brings the mobility and sleek design of a tablet and a keyboard that is familiar to laptop users. Without any need to clunk around on a touch-screen keyboard, investors can set up, make a trade and go.

There are a wide range of tablets available to help novice investor.
Tablets are great for games and surfing the Internet, but they are also perhaps the most underrated machines out there for new investors. While you're trying to learn to trade, consider getting a tablet instead of spending that money on a beginner stock trading course. 2014 has brought a range of tablets that can go wherever the investor goes, helping your learn and improve while you're on the go.
Andrew Lisa is a freelance technology writer. He covers business technology and profiles mobile devices and smartphones.