Investing in stocks is stressful, time-consuming and potentially very lucrative - and it also requires a whole lot of sitting. Sitting in front of the computer screen for long hours on a regular basis goes with the stock market game. The problem with that is, even if you do well on the market, you're killing your body - literally. Human beings are directly descended from hunter-gatherers, and our bodies are simply not meant for a sedentary lifestyle. Sitting in the car and then sitting at work - only to come home and sit some more - is killing us in every way possible.
If you're an investor, consider breaking out of the sedentary lifestyle by investing in a standing desk.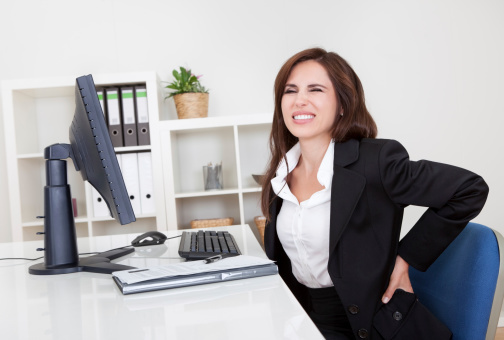 It is almost universally accepted that sitting for extended periods of time is bad for your health.
Sitting is Killing You
An article by CBS News recently stated that "sitting is the new smoking." Research shows that even if you exercise and break up long periods of sitting with activity, hours spent sitting can be catastrophic for your health. The average person sits more than they sleep. Sitting too much is associated with diabetes, increased blood pressure, heart disease and, of course, obesity.
But it doesn't stop there.
The average person increases his or her chances of lung cancer by six percent, colon cancer by eight percent and endometrial cancer by 10 percent with every two hours spent sitting down.
Benefits of a Standing Desk
As discussed in the article "The Aura and Mystery of the Ninja Standing Desk," standing while working can alleviate many of the ailments associated with long hours in a chair. Investing in stocks doesn't have to take place sitting down - and it shouldn't.
A standing desk is exactly what it sounds like - a tall desk without a chair. The Smithsonian points out that there was a time when standing desks were only used by whacky (if not brilliant) eccentrics like Ernest Hemingway. But now they're mainstream - and their benefits are catching on. Working at a standing desk reduces the risk of Type-2 diabetes and other metabolic problems, it reduces instances of obesity, improves energy and memory, improves blood flow and reduces the risk of cardiovascular disease and cancer.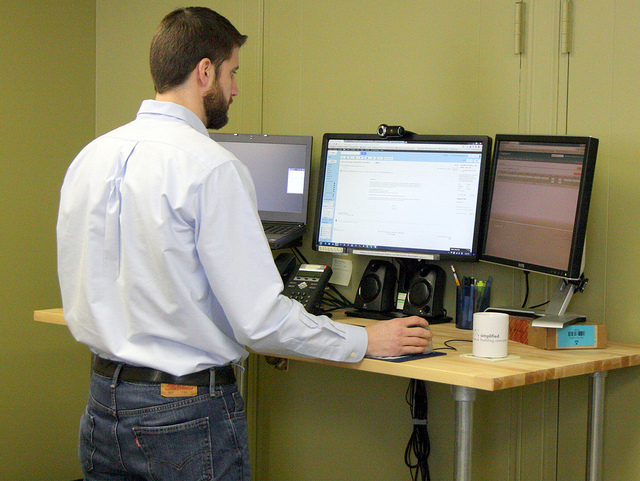 By working at a standing desk, investors can alleviate many of the symptoms associated with sitting all day.
Even if you win on the stock market, your body loses with long hours of sitting. Investing in stocks is the perfect occupation for a standing desk. It may seem odd and counter-intuitive at first, but when people get used to it, they often report increased stamina, less soreness in their legs and back and increased mental focus. There is irrefutable science to back up that fact that a sedentary lifestyle is bad for us. Don't take death sitting down - get a standing desk!
Photo Credit: Flickr user Simplified Building.
Andrew Lisa is a freelance health writer. He covers personal fitness and exercise.