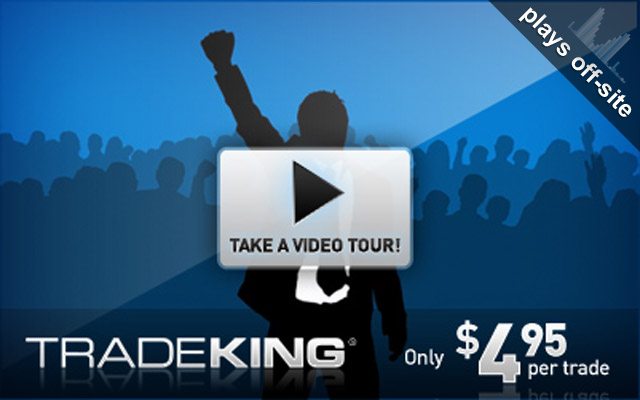 Product Description
TradeKing is a discount online stocks and options broker, allowing individuals to trade stocks, ETFs, options, bonds, mutual funds, and CDs from anywhere with an internet access. TradeKing differs from other online brokers with its flat-rate commissions of $4.95 per trade for stocks and options, plus $0.65 per option contract.  The $4.95 commission per trade applies to broker-assisted trades as well, which often costs more with other online brokers.
TradeKing also features a Trader Network online trading community.  TradeKing's Trader Network lets TradeKing clients to trade alongside and interact with other traders.  The Trader Network makes it easier to share trade ideas, experiences, and strategies as well as performance records.  TradeKing offers a full suite of research and trading tools and services as listed below.  TradeKing offers AutoTrade features and Pre-Market/Post-Market trading.
TradeKing was launched in 2005 and financially backed by: The Quick Family, Battery Ventures, OCA Ventures, Milestone Merchant Partners, and Bruce V. Rauner.  For corporate details about TradeKing, see TradeKing's Corporate Factsheet.
Commissions & Margins
Tools and Services
Account Management
Keep a close watch on your assets, buying power, trading activity and more. Our intuitive interface puts you in command of your portfolio.
Maxit Tax Manager
Keep track of tax obligations across your accounts and understand potential tax ramifications before you decide to place your trades. This handy tool does it all with a few clicks of your mouse and is another must-have for any serious investor.
Gain/Loss
Check on your overall trading performance plus realized and unrealized gains. You'll get everything you need to keep your eyes on the prize.
Records + Sharing
See records of past activity in your account, download account data for printing or to import into accounting software or Excel, and grant loved ones secure access to your account. We make it all a piece of cake.
Transfer Money
We make moving money into and out of your accounts safe and easy. You have four funding methods to choose from: Wiring funds, ACH transfer, sending a check, or transferring your account from another broker (ACAT). And when it is time to reap rewards, withdrawals are fast and simple, too.
Options
Options can be a valuable tool for informed investors to maximize returns or manage risk in any kind of market — up, down, and sideways. With our intuitive option chains and automatically populated order entry screens, it's easy to trade basic and advanced strategies alike.
Stocks, ETFs + Mutual Funds
Our platform for trading stocks, Exchange Traded Funds (ETFs) and mutual funds is powerful and flexible, without giving up the benefit of being easy-to-use. Straightforward order entry screens allow you to execute your trades fast. Of course, TradeKing guarantees that your order will be filled at the National Best Bid or Offer or better, every time. We take the price of your trades and quality of your fills very seriously. You can also buy, sell or exchange over 8,000 mutual fund shares with a click of a mouse. Find out more about the functionality that makes it easy to research and trade Mutual Funds at TradeKing.
Fixed Income
TradeKing will help you search, analyze and execute fixed income investment strategies online. We'll give you access to Corporate, Agency, Municipal, Strips & Zero, and New Issue fixed-income securities, all from one robust platform at TradeKing's low prices. You can even call our customer service desk and speak with a fixed-income expert, who will be happy to answer your questions.
AutoTrade
When you activate this feature, we'll automatically place trades for you based on your favorite newsletter recommendations and according to parameters you've pre-set in your account — all at no extra charge.
Extra Hours Trading
Extra Hours Trading is also available at TradeKing. Pre-market orders may be entered starting at 8:00am ET and will be live until 9:30am ET. Post-market orders may be entered starting at 4:00pm ET and will be live until 5:00pm ET.
Market + Company Overview
Find out what's happening in the market in real time, or regarding specific securities that interest you most. Get market stats, news and detailed metrics and insights into individual companies, so you will be well informed every time you place a trade.
Watchlist
Keep an eye on the securities that interest you most — all in real time.
Quotes
Get up-to-the second data with links to news events and more. Or watch real-time pricing data with streaming quotes.
Research
Get free access to MarketGrader research so you can identify undervalued companies and find new investment opportunities. See recent upgrades and downgrades. See recent upgrades and downgrades, and keep track with our event and earnings calendars.
Interactive Charts
See the performance of stocks, ETFs and indices, with views you can customize and save. Plus, you can check out volatility and option trading volumes for a variety of underlying securities.
Option Chains
Nineteen intuitive option chains make it simple to place trades — even complex multi-leg spreads — with just a few clicks of your mouse.
Technical Analysis
We offer a full suite of free technical analysis tools, powered by recognia, featuring chart pattern recognition, price forecasting and full educational support. It's an absolute must-have for any serious investor.
Beginner
0 Users Collected
Product Category
Product Details
Download Our Free eBook
And subscribe to our MarketHeist Guides newsletter!